Leading and Soon to be Leaving – Megyn Bowline
It's not every day that you hear about someone mentoring in the Mark 10:14 program here at Faith for all four years of high school, but remarkably service-oriented, Faith Lutheran senior, Megyn Bowline is an exception to the norm.  This year, she enjoys her core classes like math and history along with Mark 10:14. She believes that being a Mark 10:14 member is her biggest achievement.
Mrs. Lee Segalla, director of the Mark 10:14 program has been working with Megyn since the beginning and said, "it is really unusual, we hardly ever have mentors who do all four years."
Mark 10:14 is a program at Faith Lutheran where students can help our students with intellectual and developmental disabilities in their classrooms. Mark 10:14 mentors develop a relationship with the kids and are models for our school.
To be in the Mark 10:14 class, certain character attributes are required, like being self-motivated, hard-working, having common sense, practical decision-making skills, and being counted on to behave appropriately. This year, Megyn has two students for "Greenhouse", an offered science class at Faith.
Lydia, one of Megyn's Mark 10:14 students in Greenhouse said, "She is the most amazing person I know, she works hard every day, and she helps us a lot with Greenhouse [class]. My mom likes that she is nice and that she listens with her eyes not just her ears and she is compassionate."
Megyn enjoys leading her mentees with things like helping them take notes. "I take notes with them, go over it, and review to help them memorize the basic facts to get it to stick with them. I [also] help with projects they're given, planting their own seeds with their own plants, and helping them understand questions on quizzes and tests," said Bowline.
After high school, Megyn looks forward to still carrying on her friendships that she has made the last seven years at Faith. She will miss her friends as much as her friends say they will miss her.
Megyn's friend Gianna said that, "she is sweet, funny, reliable, trustworthy, and the best friend to go to when she needs advice."
Megyn views her high school experience as successful. "I am graduating, exceeding all my classes and doing well in them, and enjoying it as I go along," said Bowline.
Megyn is the president of the Key Club and enjoys her service leadership classes. As many of us know her mother is the beloved librarian, Mrs. Melanie Bowline and her father is the Dean of Students. Serving runs in the family.
"Our family always grew up serving others and we wanted to instill that in our children, and she took that idea and ran with it because she loved it so much and found great joy in helping others," said Mrs. Bowline.
"My goal in life is to start my own business and give back in the community," said Megyn.
Megyn's plan after high school is to go to college and then start "Fab24/7". "Fab24/7" will start off by selling fanny packs and bucket hats, and she intends to grow from there. "I think there is a definite need for fanny packs and bucket hats, and it's making a comeback. I want her to have an e-commerce business that she can still travel and help others while making money simultaneously,'' said Mrs. Bowline.
Mentoring others in serving the community has helped Megyn at school, in life, and her possible future in business. Whatever she does, she will always carry this experience with her. "Seeing the smiles that people give to you when you show them that you care, and how they're so grateful for you, even if it's the littlest possible thing you can do," said Megyn.
About the Writer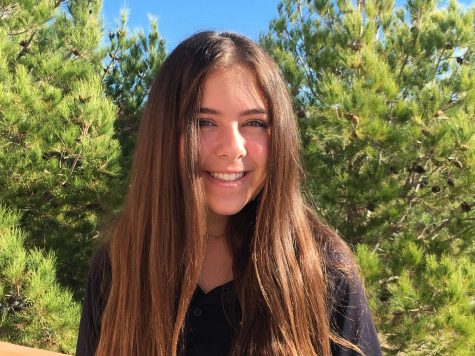 Camryn Caruso, Social Media Editor
Camryn Caruso is a sophomore student at Faith Lutheran High School. During her free time, Cam likes to get involved with golf, tennis, Red Cross club,...