Parading The Way To Halloween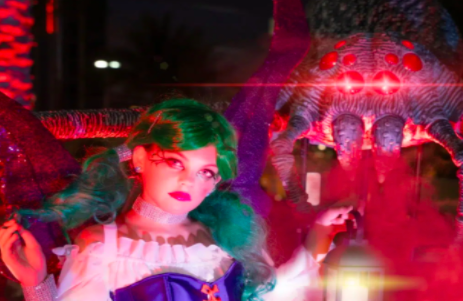 Throughout the busy holiday season, many events are coming to Vegas. One of these new exciting seasonal events is the Downtown Summerlin holiday parade. This is filled with "mischievous mayhem featuring dancing zombies, ghosts, witches, wizards, and more." The best part about this fun festivity is entirely free.
These parades run every Friday and Saturday and are a fun festivity for families and kids of all ages. The pre-parade fun starts 15 mins prior; and includes fun-themed music and lights to get the audience excited. The parade begins at 7'oclock sharp and runs for approximately 15 mins and is filled with fun dancing, music, and floats. 
Parades are run by high school students that include dancers from many different studios around the county. Carson Evans (16), a dancer from Studio 702 Dance, participates in the parade annually; he states, "I look forward to the whole parade process every year, it is so cool being able to create floats and scenes, and seeing the excitement and joy on kids faces makes all the hard work worth it." 
A viewer of the parade Sophia Landavar (17), a Faith Lutheran Student, said, "you could tell how passionate the performers were; this made the whole parade more enjoyable to watch."
The feedback from this parade has been incredible, so good that they will be having a Christmas parade as well. For more information on the parade, and upcoming events, make sure to check out downtown Summerlin's website here: https://summerlin.com/downtown-summerlin/
Leave a Comment