The Timeline of Johnny Depp and Amber Heard
What lead up to the infamous 2022 Defamation case.
Johnny Depp, a famous actor known for his role in the Pirates of the Caribbean as Captain jack Sparrow, is currently in court again, against his now ex-wife Amber Heard over a $100 million defamation case. 
Back in 2016, after only being married for over a year; Heard filed for divorce and accused Depp of Domestic Violence. Although there wasn't any definitive evidence that Depp had actually done anything, a $7 million settlement was made on August 16, 2016; by 2017 the divorce was finalized. When December of 2018 came, Heard reached out to The Washington Post about an op-ed, which in detail described how she is a representation of domestic abuse for women. A few months will pass when in 2019, Depp sued Heard for $50 million for defamation over the article that The Washington Post had published on Heard's op-ed.
In 2020, phone recordings between Depp and Heard came out, where Heard admitted to "hitting" Depp. When listening to the recording Heard can be recalled saying "I'm sorry that I didn't…hit you across the face in a proper slap, but I was hitting you, it was not punching you. Babe, you're not punched." She continues to admit hitting Depp in the recording by stating, " I don't know what the actual motion of my hand was, but you're fine, I did not hurt you, I did not punch you, I was hitting you." This would later bring Depp and Heard into court yet again, with the three week libel trial; which began on July 7, 2020. During this trial Depp states that Heard on multiple occasions had "extramarital affairs" according to Insider. Later the names of those  alleged affairs are revealed to be James Franco and Elon Musk although these allegations are yet to be determined to be true or not; both Musk and Fanco have refused to testify in the current 2022 trial. Depp also accused Heard of "defecating in his bed" and "punching him". Heard denies the allegations and continues to accuse him of domestic violence.
In November of 2020, months after the libel trial; the court ruled against Depp. Depp's lawyers comment on the ruling stating, "This decision is as perverse as it is bewildering. Most troubling is the judge's reliance on the testimony of Amber Heard, and the corresponding disregard of the mountain of counterevidence from police officers, medical practitioners, her own former assistant, other unchallenged witnesses and an array of documentary evidence which completely undermined the allegations, point by point.". 
On November 6, only four days after the court ruling; Depp announced that he has been asked to resign from his role as Grindelwald in 'Fantastic Beasts 3'. Depp announced the incident on his instagram saying "I wish to let you know that I have been asked to resign by Warner Bros. from my role as Grindelwald in 'Fantastic Beasts' and I have respected and agreed to that request." Depp continued stating that, "Finally, I wish to say this. The surreal judgment of the court in the UK will not change my fight to tell the truth and confirm that I plan to appeal." Later after Depp's announcement on his instagram, Warner bros. confirms Depp's departure in an interview with Variety stating, "We thank Johnny for his works on the films to date."Depp was later denied the right to appeal later that month. He again was denied permission to appeal in March 2021. The court of Appeals backed up their decision stating that "the original court hearing was full and fair." 
As of April 11, 2022 Heard and Depp started their $100 million defamation lawsuit, which is now still continuing and seems to be in Depp's favor this time.
Leave a Comment
About the Contributor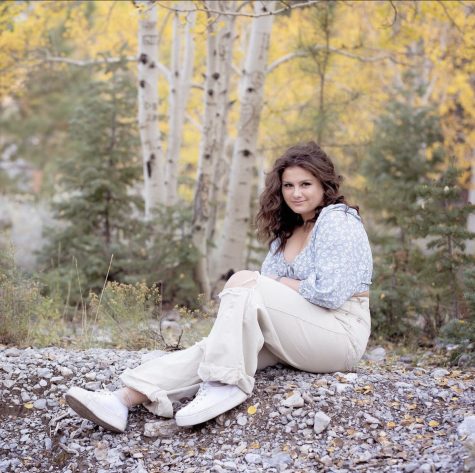 Alexandra Psak, Editor
Alexandra is a senior at Faith Lutheran. She goes by Alex and has been attending Faith Lutheran for seven years now. She is part of the Broadcasting branch...