Presidential Polls: Reliable?
Over a week has passed since the Presidential Election took place and the country is still in shock as Donald Trump incredibly defeated Hillary Clinton, and is officially the next President-elect of the United States, despite most polls projecting a Trump loss.
As of 9:17 P.M. PST on November 15, 2016, Donald Trump beat Hillary Clinton with 290 electoral votes to 232 (votes in Michigan are still being counted, but Donald Trump has a small lead). Most pre-election projections had Clinton winning the election by a large amount, which has given Americans a big question: how accurate are presidential polls and should they continue to be used as an effective way to predict the race?
One of the better ways to look into the legitimacy of polls is to look at the sources that gathered the results.
"I think presidential polls can be very wrong. You have to look at the sources and how credible they have been in past elections," said senior Liam O'Dwyer.
Via Real Clear Politics, in 2012, Barack Obama averaged less than a one point percentage lead in the popular vote over Mitt Romney going into the election, while Obama ended up winning by 4 points. In 2008, the Real Clear Politics average had Obama defeating John McCain by 7.3 points, and ended up winning by 7.6 points. Although the two prior election polls were quite accurate, that does not mean they always have been on the money. In 1948, Thomas Dewey was projected to defeat Harry Truman by 5 points; however, Truman stunned everyone by flipping the projection and winning by 5 percentage points. So presidential polls have not always been precise in predicting the winner.
Another plausible explanation to the misleading polling data during this election could be the way people responded as result of how polarizing of a figure Donald Trump is.
One of Trump's main mottos during his entire campaign was "the silent majority stands with Trump". Since he is such a controversial candidate, many people think that his supporters might have claimed they were undecided instead of telling pollsters they were voting for Trump.
"I know lots people that are Trump supporters who stay quiet about it," O'Dwyer also added, "while he has several vocal supporters, I think many people don't want to publicly admit they are supporting Donald Trump because he is one of the most controversial candidates we have ever seen."
There are still many possibilities as to why the 2016 election polls were off. But at the end of the day, exit polls on Election Day are the only sure way to know which candidate will win, as it is impossible to perfectly predict a race before it even happens.
Leave a Comment
About the Contributor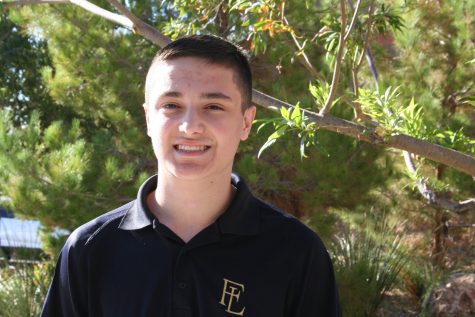 Michael Jaramillo, Staff Writer
Michael, Senior, has attended Faith since sixth grade.  This is his first year in Broadcast Journalism, as he has an interest in becoming a sports journalist. ...