The Death of Queen Elizabeth II
Queen Elizabeth II after ruling the UK for 70 years has passed away. The FLNN asks Ms. Heimlich about her stance on the Queen's reign and the upcoming King Charles and his reign.
On September 8, 2022, Queen Elizabeth II passed away peacefully at the age of 96 at Balmoral Castle. 
After seven decades, the title is now being passed over to Elizabeth's oldest living heir Prince Charles III of Wales. This year was a huge year for the royal family as it marks the 25th anniversary of Princess Diana's death and Queen Elizabeth II's Platinum Jubilee marking her 70 years on the throne. 
Ms. Heimlich, a British Literature teacher at Faith Lutheran describes how she found out about the queen's death, "It's funny I actually heard it live-I heard she was sick, so sick that they interrupted parliament because of it and had called the entire Windsor family to her and when you get called home you know it's bad." she states. "I was watching Sky News during my planning period with Mr. Crowder- not even 2 minutes into advisory while watching Sky News they announced the queen's death and the screen went black while starting to play the national anthem."
The Queen left a long-lasting legacy, for not only the UK but for the entire world. She has lived through the terms of 14 U.S presidents and served with 15 prime ministers; which include Winston Churchill and Margaret Thatcher. 
Now that her reign has ended, the royal family and all of Britain will go through a mourning period before the Queen's funeral. Many speculate what King Charles will do now that he has ascended the throne and also how long the soon-to-be 74-year-old monarch will last. 
Heimlich states how she feels "sympathetic" towards the new King. "I've grown more sympathetic for him over time." she explains, "He's made some mistakes in the past; everybody sympathized with Diana during the divorce so he took a lot of blame for that, which I don't know if that's entirely fair."
"When The Crown came out on Netflix, that did him no favors. People who didn't know about Prince Charles before, now he had a new bunch of people hating him for what happened with Diana." Says Ms. Heimlich.
The King has recently given his first public announcement since being crowned, paying tribute to his late mother for all her hard work and dedication to the country stating,  "The death of my beloved Mother, Her Majesty The Queen, is a moment of the greatest sadness for me and all members of my family,". 
Ms. Heimlich states, "Well it's clear to me, and you're seeing this now that her children adored her, her grandchildren adored her, her great-grandchildren adored her, and we see her usually when she's performing royal protocol."
His majesty continues by saying, "We mourn profoundly the passing of a cherished Sovereign and a much-loved Mother. I know her loss will be deeply felt throughout the country, the Realms, and the Commonwealth, and by countless people around the world." He then goes on to state how he and his family will grieve along with many others, "During this period of mourning and change, my family and I will be comforted and sustained by our knowledge of the respect and deep affection in which The Queen was so widely held." 
Queen Elizabeth II is survived by her son Charles and three other children, Andrew, Anne, and Edward. Now that Prince Charles is King, the next in line for the throne is his oldest son, Prince William of Wales. 
The Queen survived many monumental events that occurred during her reign, including World War II, The Vietnam War, and the Covid-19 Pandemic. One thing that was most interesting about the queen and her time is that she served in World War II as a driver and truck mechanic in her twenties. 
"It's clear that loss is personal for them (the United Kingdom), that they miss this woman very much," Ms. Heimlich emphasizes, "and so I think that says a lot about what she was like." 
Heimlich then goes on to state her opinion on the Queens' funeral- "She planned her own funeral down to the hymns and verses, so it'll be a reflection of her."
Charles will be coronated within the next year, nonetheless, the world humbly acknowledges her majesty for her love and dedication to her people as head of state.
Rest in Peace and thank you, God save the Queen.
View Comments (1)
About the Contributor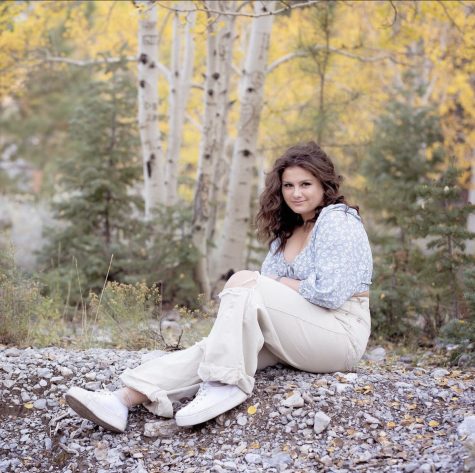 Alexandra Psak, Editor
Alexandra is a senior at Faith Lutheran. She goes by Alex and has been attending Faith Lutheran for seven years now. She is part of the Broadcasting branch...