Pledges are Back
Students noticed that the student body wasn't required to say the pledges for the first quarter. The norm for Faith is to say the pledges to both the American Flag and the Christian Flag once a week during chapel. Sources implied that the collective decision to remove the pledges during chapel was because students didn't like that pledges were affiliated with our worship services.
The Applied Christianity class instructor Mr. Alex Klenz spoke up on the matter: "First, I am thankful for the conversation and opportunity to discuss pledges at Faith Lutheran. I appreciate the willingness of the FLNN to have opinions and voice them.
With short notice at the beginning of the school year, we figured out that chapels would be taking place in the Arena. During our weeks in the Arena, the pledges were forgotten- as we worked diligently to figure out seating, timing, lights, sounds, etc. As soon as we returned to the CPAC and it was brought to our attention that the pledges were missing, we began to have conversations with the Administration, the High School Student Leadership Team, as well as members of the FLNN to discuss whether or not pledges remained in the chapel was the right choice, or if this was a good time to consider another option.
Ultimately this decision will fall to our MS and HS Principals, Mrs. Harper and Mrs. Stokes, to decide whether to include pledges in morning announcements or to keep them where they historically have been.
In the meantime, we added the pledges for Chapel on September 29. The Applied classes have continued to say the pledges during chapel since then.
The Gold Applied Class has been intentional in how we present the distinction between a time of worship and a time of pledges- two separate activities happening during the same time of meeting together as a whole school.
I want to be clear that pledges were never intentionally removed, ignored, or abolished by anyone this school year, and no statement was being purposefully made by anyone- faculty or staff."
Chapel might not be the right time to affiliate pledges into students' school routines. The administration is coming up with a plan to include them regularly, but for now, we're back to our old ways of saying them weekly in the chapel.
Leave a Comment
About the Contributor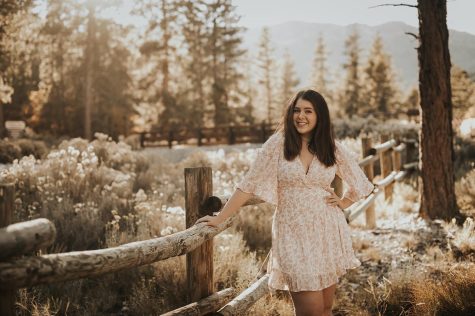 Camryn Caruso, Editor In Chief
Camryn Caruso is a senior student at Faith Lutheran High School. During her free time, Cam likes to get involved with Red Cross club, writing for the Crusader...