Adapting and Overcoming: How school has changed due to the pandemic.
With schools around the country opening up this semester, Faith Lutheran wanted to open in a way that would keep students and faculty safe.
Faith' hybrid system was established merely weeks before the opening of the school, leaving both teachers and students with questions. On August 10, a little over a week before school was set to begin, the governor rolled back their plan and forced the school to come up with a hybrid system. The Swivl was announced to students on the same day. Swivl cameras allow for at-home students to view alternate angles of their classrooms from Zoom. This switch to hybrid, as well as the extra set-up and time necessary for Zoom and Swivl, has caused some concern on campus.
A teacher, who wished to remain anonymous due to the risk of backlash for their opinion, shared how they felt about the beginning of the hybrid system,"My fear was actually that we'd have to do a hybrid, where half the people are there and half aren't, and we alternate. I thought this would be the worst of all worlds, and from an education standpoint it has been. I thought it would be difficult to deal with an online ground and an in person group at the same– and I have been correct."
The hybrid system consists of half of the student body attending school two days of the week, while the other half attends the other three days on campus. While at home, students are still required to Zoom into their classrooms for lessons, quizzes, and tests. New software was distributed among students, including Examsoft, which allows teachers to give tests and quizzes fully online. This cuts back on single use papers as well as helping to maintain a distanced environment.
Niel Grepke, a religion teacher at Faith, shared how he felt during the beginning of the school year, "We went through a lot of unknowns and things changing by the day…It was frustrating," said Grepke, "And at the same time, invigorating, because of the aggressive response by our school to provide something excellent in the face of many challenges."
Now that the fall semester is in full swing, have things changed?
The anonymous teacher went on to say that there is a fundamental and irresolvable problem at the center of hybrid. "Online learning is fundamentally different from in person learning. It requires different approaches. Yet, we're supposed to perform these two fundamentally opposing forces at the same time."
As opposed to in-person learning, students online report feeling disconnected and alienated from the class. This makes classroom discussions and personal connections hard to create and balance.
Grepke shared the emotional struggles of online learning. "The impediments to getting to know my students, even five weeks in, have been significant. The rhythm is off. The non-verbal communication is obliterated," said Grepke, "If good teaching were as simple as delivering an 85 minute lecture every day, we'd be golden…The parts that I think are most important feel like learning to teach all over again."
Building personal connections is an issue that extends to students as well. Throughout the beginning of the fall semester, social events have been limited to what is absolutely necessary. Most clubs and sports are being postponed until Spring, when they can hopefully resume safely. This leaves students with little to no interaction outside of the school day.
Faith sophomore, Henry Mathes, shared his opinion on the hybrid schedule,"I much prefer to be in class, like social interaction is kind of my thing, so being at home, I just kind of have low energy."
High school senior, Sabrina Richards, started out the year fully online. Now that she's halfway through the first semester, she decided to transfer to the hybrid system. After a rough couple of opening weeks, Richards found that she felt comfortable and safe coming back on campus.
"It was a little overwhelming at first. The most tricky part was the hallways for me because the one-way system was a little difficult to pick up and I really had to get used to people being close to me in the hallways," said Richards.
As opposed to hybrid students, who may be able to see their teachers twice or three times a week, online students only see their teachers and peers over Zoom. This can be a difficult change of pace for some.
"During quizzes and tests is when I felt most disconnected because you cannot ask any questions with Examplify," said Richards, "If you are in-person, it is possible to ask your teacher a question, so not having access to your teacher to clarify a confusing question or something such as that was frustrating."
While it may be tough to get used to, the preparations Faith has put into place are helping to keep everyone a little safer in these tough times.
Sophia Smith, a high school senior, explained why she feels safe at Faith as opposed to other Las Vegas private schools, "I feel like we've prepared a lot better than honestly everyone else because I'm seeing a lot of schools in Las Vegas get shut down cause they're having Covid cases, but…we've had zero."
In an email to Faith students and families, CEO Dr. Stephen Buuck, stated that there has not been a single Covid case on campus as of September 25.
Leave a Comment
About the Contributors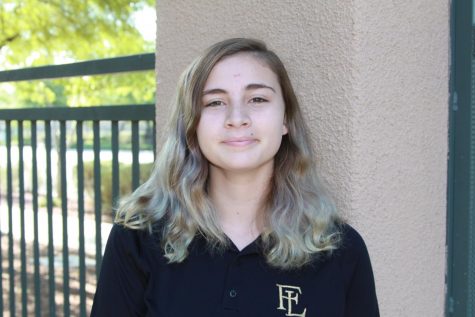 Jenna Wieners, Staff Editor
Jenna Wieners is currently a senior at faith. Outside of the newsroom she enjoys skiing, biking, and spending time with her friends. Jenna is involved...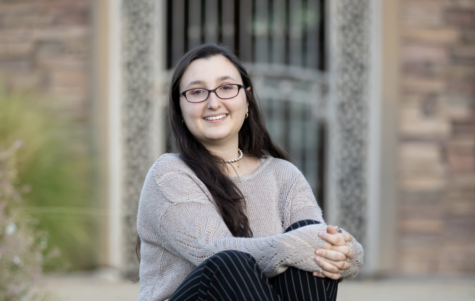 Denida Rahmani, Staff Editor
Denida Rahmani is currently a senior at Faith Lutheran High School. She first took a journalism class as a seventh grader and has been in the Film and...