Las Vegans take on a burger
Vegan's Perspective…
Convincing people that vegan food is delicious can be quite difficult sometimes, but if you take them to Panacea that isn't the case. It is located within Boca Park, the shopping center has an abundance of parking which is very convenient. They also have a valet option if you prefer a V.I.P. treatment. Upon walking in through the big glass doors you see a very modern decor and some delicious baked goods. As you walk up to the counter to order, you notice a medium sized menu with different options for any food you might be in the mood for (with the exception of meat of course). My favorite of all of those options is the Love Burger, within the first bite you'll know why they call it the love burger, it's extremely delicious. The flavors of this plant-based burger are phenomenal, they all come together and create a mellifluous symphony in your mouth. As a vegan, I've had so many different types of plant-based burgers and this is the best one that I've had by far. This "burger" comes with caramelized onions, dill pickles, agrodolce onions, iceberg lettuce, ginger mustard, chipotle ketchup, and comes with a side salad; but if you aren't into having a salad with your burger you can upgrade to some delicious fries for two dollars. Before the fry upgrade, the burger itself is $10.99 which is around the cost for a Red Robin hamburger. In conclusion, I would recommend Panacea to anyone looking for a great vegan meal.
Meat-Eater's Perspective…
From the day I was born, I've been eating meat. So when I found out about Panacea's vegan friendly food I was curious. I drove to Panacea after school and I was pleased to find that it was just a short drive from Faith Lutheran. The interior of the restaurant had a rustic and modern look and at the same time it felt cozy with the warm interior lighting. Stepping through the entrance you can see a mural painted on a wall of an owl and flowers which I thought was a pretty neat. After admiring the owl for way longer than I like to admit, I stepped up to the counter where I was greeted by friendly staff. She gave me a menu that I considered to be surprisingly short. The menu consisted of a few burgers, smoothies, bowls, desserts, salads and appetizers. Their menu was 100% vegetarian friendly, the whole point of the restaurant. I took Courtney's recommendation and ordered the Love Burger with fries and ordered the vegetarian version with cheese; the total came out to be about 18 dollars including tip. I didn't have to wait too long, I then took my first bite and as a meat-eater it wasn't anything mind blowing but, a good burger regardless. I've had better from Bachi Burger or I Love Burgers. But that's not the point, it's great food for anyone that is vegan/vegetarian. If you go,don't forget to look at the owl mural and expect friendly staff, a rustic interior, great vegan food.
About the Writer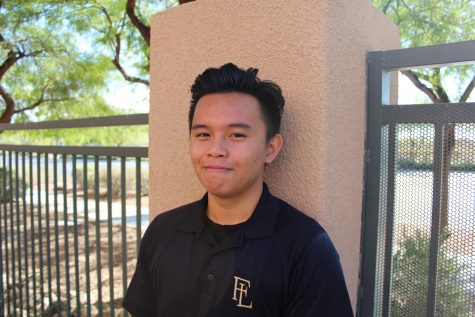 Wesley Gaspar, Staff Writer
Wesley Gaspar is a senior at Faith Lutheran; this will be his first year working with the Faith Lutheran News Network and the Crusader Chronicle. Wesley...