Faith Lutheran 9/11 Memorial
Hang on for a minute...we're trying to find some more stories you might like.
America. A country where the citizens seem to be beaming with pride, a country full of patriots willing to fight to keep their freedom. This country has also suffered great tragedy through wars, as well as terrorist strikes, fought over the 200 years it has been an independent country. One of the greatest, most recent tragedies was 9/11.
Sunday, September 11, 2016, marks the fifteenth anniversary of the day the Twin Towers in New York, New York were subject to one of the biggest terrorist attacks to date. The towers, along with the Pentagon and another plane full of passengers, are examples of great heroism in the history of the United States of America. Without service from men and women alike, from policemen to firefighters, the fatality number would've been much greater.
Faith Lutheran Middle School and High School honored this tragic historical event on Friday September 9, 2016. In order to prepare, they set out of three thousand miniature American flags to represent the lives of those lost in the plane crashes and the burning buildings. A video was also shown to students to remind them of the hurt caused to this nation on that day fifteen years ago.
Just by watching the video, or even by looking across the amphitheater at the display of flags, it was obvious a lot of time, thought, and creativity was used in order to create such an honorable tribute.
"I thought the tribute was really well done and could tell that immense thought was put into it. I thought it was really cool how they got a response from [congressman Joe Heck] too," said junior Sydney Keech.
The women's ensemble group also executed a touching performance, singing the national anthem. The ensemble group had practiced the anthem Tuesday, Wednesday, and Thursday morning (like they normally do) a week before in order to perfect the execution of the song.
On campus, it was also grandparent's day so many students were accompanied by their grandparents. This made the event even more memorable considering loved ones were there with students, safe and sound.
All in all Faith Lutheran did a great job at remembering those who sacrificed their lives to save those in the burning building, while also remembering those innocent victims. The overall ceremony was touching and sincere, making the fifteenth-anniversary one to be remembered.

About the Writer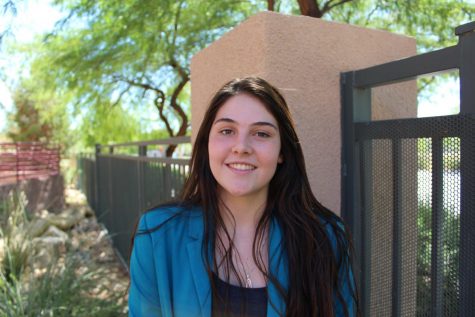 Kaya Thomas, Editor
Kaya, senior, has been attending Faith Lutheran for 7 years now. She took Broadcast Journalism in middle school and enjoyed it so much she decided to take...