Halloween at Disneyland
In honor of the Halloween season, Disneyland transformed its magical environment into a spooky Halloween experience. Starting September 1st, Disneyland brings back Halloween traditions such as pumpkin churros and villain-themed parades.
During this time, guests can meet classic Disney villains such as Cruella de Ville, The Evil Queen, and Hades. Classic characters like Mickey and Minnie Mouse are dressed in costumes to show their excitement for the holiday! You can find the 2022 Disneyland Halloween merchandise in the stores on Main Street!
Once the sun sets, the haunting atmosphere enhances. When walking by the Haunted Mansion, you can hear the spooky soundtrack from the classic movie, The Nightmare Before Christmas. This Tim Burton classic has a significant role in the Disney park. The Haunted Mansion is reimagined with Jack Skellington, Sally, and other fun characters. This attraction is a popular one, with wait times reaching 3 hours. One guest added, " I don't mind the wait time. I think the queue adds to the excitement of the ride."
When a Haunted Mansion cast member was asked for tips regarding wait times, she replied, "I recommend the lightning lane, it can cut the wait time in half and allows for more festive fun around the park."
Another exciting event can be found near the castle! The Halloween firework show is a fantastic way to spend a cold Disneyland night! The firework show shines its spotlight on the evil characters found in Disney films. 
Leave a Comment
About the Contributor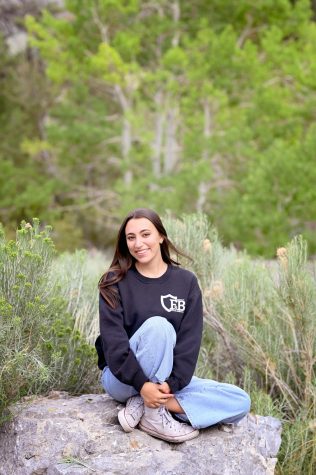 Sophia Bonner, Entertainment Editor
Sophia is a member of the Film and Broadcast Academy. She is a Senior this year and is very excited about what this School year brings. This is Sophia's...