Pairing of Two Languages
Chinglish, one of the hottest new eateries in Summerlin, is an upscale restaurant featuring authentic Cantonese cuisine.
Opening in the midst of a pandemic, with social distancing restrictions on occupancy, has not stopped this restaurant from drawing a regular clientele eager to taste everything on the menu. This restaurant is family-owned and operated by Ken and Kitty Heck and Kitty's parents. Kitty manages the daily operations while her father is the head chef. Not only is its name unique, but equally as interesting is its neighbor Kosher Chinglish and its computer system.
The name Chinglish has several personal meanings for Kitty Heck. It represents her own life growing up speaking Cantonese, but moving to the United States and learning English at a young age. As an adult, she has forgotten some of her Cantonese and self-proclaims to speak 'Chinglish' now. Additionally, Chinglish represents the blended family that she and Ken have created where they speak both Cantonese and English at home.
In order to ensure there is nothing lost in translation, Chinglish uses a special point of sale system that is able to translate the customer's order from English to Cantonese. Most of the wait staff speaks English, while the chef and kitchen personnel speak both Cantonese and English. Once the order is submitted, it gets printed in the kitchen in both languages. This ensures the order is presented to the kitchen correctly and that the kitchen understands any dietary or allergy restrictions.
Kosher Chinglish is one of the only certified kosher restaurants in Las Vegas. Although it has the same ownership, its kitchen is completely separate from the main Chinglish in order to preserve the strict dietary guidelines, including higher quality ingredients and kosher preparation. The concept was born during the mourning period after the death of Ken's mother, called a Jewish "shiva" where Kitty's parents, Chef Po Fai and Anna Lam, prepared all of their favorite recipes but converted them to respect Ken's kosher home. Today, Kosher Chinglish shares that same experience for others to enjoy.
Word of mouth is the best advertisement for Chinglish. Alice Foerster first discovered Chinglish when a friend who works in the food industry posted pictures of the food, and she just had to see it herself. She said, "The food is amazing but, above the food, the staff is the friendliest staff in town." Alice brought her friend Jennifer Vaughan who said, "I loved it!" and claimed the chicken dumplings were impeccable. A Chinglish regular, who noticed the restaurant driving by one day, said this is the only place on the west side of town that serves authentic Cantonese food. For the full experience, visit Chinglish, located off of Charleston in Boca Park.
Leave a Comment
About the Contributor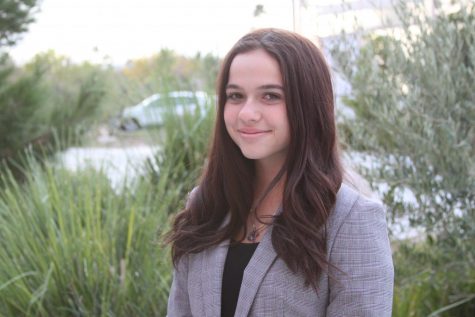 Shayne Saragosa, Editor-in-Cheif
Shayne Saragosa is a Senior, entering her fifth year at Faith Lutheran. She joined the FLNN and Crusader Chronicle staff three years ago and continued...