Route 91 anniversary unites Faith community
Hang on for a minute...we're trying to find some more stories you might like.
The unfortunate night that hit Las Vegas with tragedy had its one year anniversary on Monday October 1. The start of fall brought back memories of the Route 91 affliction that struck our city.
Moments of silence were held throughout the day October 1, to remember and honor those who suffered or lost their lives. This remembrance not only struck the city, but also the Faith Lutheran halls. Support and comfort was offered by the faculty, counselors, and even fellow students.
"We certainly want to acknowledge and respect the day, but in talking to students who had been there, faculty who had been there, kids whose parents had been there, they really didn't want to do like a big assembly or have people speak about it… we didn't need to rehash what happened," said Mrs. Burns, high school counselor, "I think in kind of acknowledging the anniversary we kind of saw… that there was a need to come together and support each other."
With the event causing such suffering in our community, it forced students to be there for each other during this month, more than ever before.
Principal Mr. Fogo said, "It was probably the most beautiful thing, probably the only beautiful think about it, is watching kids rally, like there's kids that I didn't even know where strong Christians at the time, pulling people in and praying with them."
The support throughout the halls has been present since the event and will continue to flourish as the years go on. Not only the Vegas community, but the Faith Lutheran family has been changed for ever.
About the Writer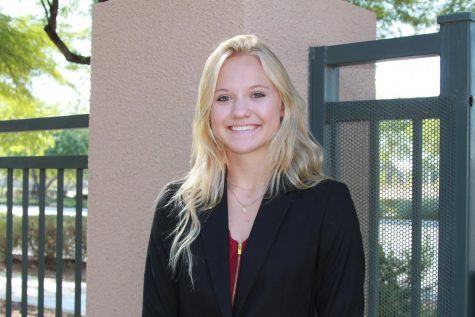 Lindsey Langridge, News Editor
Lindsey Langridge is an aspiring journalist attending her junior year at Faith Lutheran High School. When she's not writing, in her free time, Lindsey...