Tackling with a broken arm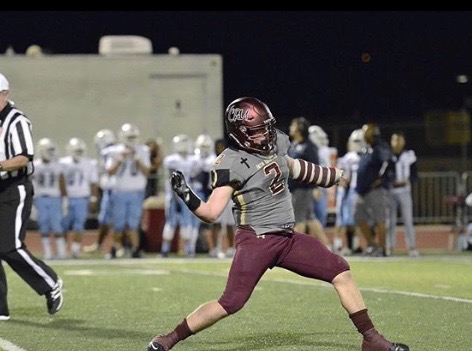 Hang on for a minute...we're trying to find some more stories you might like.
Senior captain linebacker, Nate Meredith, tackled his way into a Crusader win against Centennial High School on Friday, September 28 with a broken arm.
Meredith took his dedication from the practice field to the Friday night lights as he made with tackle after tackle. Many Faith fans noticed that Meredith had a broken arm and taped up his cast to match the team's uniform. His motivation to win during his senior season has kept him going, even with a large cast on his wrist.
"Taking it one week at a time. Focusing at being 1-0 is what the coaches really teach us and we take it out onto the field," said Meredith.
Centennial's offense attempted to score, through passing and rushing, yet Meredith was on his game, reading each play before the Bulldogs could reach the end zone.
"Out of two of our conference games we have only gave up 14 points," said Meredith with pride.
The varsity captain gives credit to Faith's coaching staff along with all the talent on the field around him. Players like Ma'a Gaoteote, sophomore linebacker committed to USC, and Hunter Kaupiko, junior linebacker with an offer to UNLV, assist Meredith with tackles and are constantly pushing him to play harder.
"I can't really take credit for all the tackles. I got to give credit to our defensive coordinator, Coach Davis," said Meredith, "He really doesn't get a lot of credit for all the good play calling he's been doing all season. It's also hard to take credit when you're surrounded by a bunch of talented guys."
Meredith currently leads his team with 8 solo tackles this season, adding to his season total of 29. He averages 7 tackles per game throughout the six games the Crusaders have played so far. Meredith works to perfect his skills by breaking down film and studying tendencies. The varsity star looks to lead the Crusaders to state to finish his football career.
The team heads into their next game against Arbor View this Friday, October 5, 2018. Arbor View is undefeated in league play and has a strong rushing game, but nothing too tough for linebacker Meredith.
"They like to run the ball. We just have to shut down the run. Put their back against the wall early," said Meredith.
Check out the video interview with Meredith above.