The Kenya project: is it taking away from local service?
Two years ago, Faith Lutheran began to sponsor a community in Kenya. The school teamed up with World Vision, an organization whose focus is to help build up smaller African communities. Their goal is to create a school-wide mission to help the people living in the small town of Bandaptai, in the African country of Kenya.
As a passionate advocate for human rights, I was enthralled by the idea of helping out overseas. Though lately, the project has begun to leave a sour taste in my mouth. Looking around the Las Vegas valley, there's so much that can be done to help the local community. It's amazing to help people who may be in more dire conditions from ourselves, but there are also problems in Las Vegas that need solutions and should be addressed as well. Faith has a unique opportunity to foster the crime and poverty ridden community of Las Vegas through service, yet there are no school-wide service projects given the same priority that go towards helping locally. This left me, and many other students, with one question.
Where is the balance?
While it could be argued among Faith students that the service done in the Vegas community is fulfilled in the mandatory service hours, there is a large disconnect between actual volunteering and getting service hours. For instance, many of the service opportunities that students take rely on consistent volunteers, meaning that one or two days may help, but won't be beneficial in the long run.
There are also bigger issues that one person isn't equipped to tackle, such as the homelessness or drug problems that run rampant in Sin City. According to the National Survey on Drug Use and Health, as of 2010, about 16% of those over the age of twelve are using illicit drugs in the city of Las Vegas. While the mandatory hours are a great way to help with certain problems, ie. animal rescues/shelters that need weekly volunteers, we as a community could be working to help make Las Vegas the best it can be by taking on the bigger issues. Not only would this build a stronger sense of community among the staff, faculty, and student body, but it would help grow the Faith family throughout the city.
A newer addition to the Faith curriculum is the service and missions class. This is the first year the class has done work throughout the Las Vegas valley. They leave the school every two weeks to volunteer on a larger scale in the Vegas community. The teacher and leader of the class, Alex Klenz, gave his opinion on whether or not our efforts are evenly distributed.
"There are some that might view our school's participation with World Vision and our efforts in Kenya as misplaced, as there is so much need here in our very own city — but I don't personally feel as though forcing a comparison is the right way to go about it." Klenz shared his own personal belief on the issue.
Julie Buuck, the leader of Faith's mission projects and the student council, weighed in with her professional opinion on the matter of whether or not we're unbalanced.
"Jesus indicated that our neighbor was next door, in our community, in our city, our nation, in the world. We are to go everywhere and minister and witness how Jesus has saved us and as a result of that gift of salvation, we want to go and help others and tell His story. We have our own stories of how He has affected our lives and we are called to share that with others," Buuck shared a more biblical reasoning, referencing Acts 1:8 in agreeance with what Klenz went on to say about balancing our service.
The problem with the majority of international service projects lies within our tendency to forget about our own issues while helping others. There is no reason we cannot work to help better the societies in Kenya as well as our own. According to Klenz and Buuck, we're already working towards that being a reality, if it's not already.
On paper, the project is fantastic, a Christian school willing to send students and money overseas to build up others and share the gospel. Although when coupled with the current issues Las Vegas is facing, it may also seem pointless to help fix the society of Bandaptai, when there is nothing we are doing to help fix our own. Klenz went on to make an interesting argument about why it is that we don't help to alleviate these larger issues.
"I think that living in Sin City presents a lot of obvious opportunities for evangelism and support to those who need it, the addicted, the lost, the homeless. Rather than simply identify a need in the city, we should assess what we, as a community, are capable of…What do we have to offer that makes us the right people to offer it in the first place?"
The argument that we simply don't have the right talents or abilities makes sense. Compared to schools such as Palo Verde, which has 3,216 students as of 2018 and is about triple the size of Faith Lutheran High School, we don't have the right number or diversity of expertise to do so. Though, the same could be said about our efforts in Kenya. We don't have any means to help raise up a city, let alone one on the opposite side of the world. Instead, we found a way to work around our inability, teaming up with World Vision to help accomplish what we could not. There is no reason that we cannot do the same for our own community. We could find and work with groups similar to World Vision that help locally.
Our efforts in Kenya aren't the problem, it's amazing that we're able to help so many people from so far away. Personally, I fully support the idea of helping those who cannot feasibly help themselves, especially when we're able to have a healthy and lasting impact on the community. According to World Vision, we've helped to provide sufficient water to over 300 families. This sort of work is impressive and shouldn't be downplayed. That being said, I also believe that while we work to help internationally, we should work to better our more immediate neighbors.
We have good reason to help in Kenya, though it isn't the only opportunity we have. If it were up to me, I would plan to start by helping in Vegas and move to bigger issues after we had experience here. Some would argue that's exactly what we did. But in my opinion, to put it candidly, we haven't yet done a project to the same capacity yet locally. Though the time has already passed for starting in Vegas, the project in Kenya is already happening and in full effect. A new question now stands.
How can we help here?
Contrary to popular belief, there are actually a lot of opportunities to help the Vegas community here at Faith. The reason these projects seem to be put on the back-burner by students is simply because they don't have good enough marketing around the school. We don't see as many videos or promotional material for the Just One or Blanket Project, both of which are aimed at helping locally. It may also be important to note that these projects could be taken bigger, meaning more money and resources could be given to make these projects as school-wide as the Kenya project.
"I believe that we might be distributing our efforts equally, in terms of time, since Faith has charitable contributions both in Kenya and in Vegas year round. However, in terms of publicity, this is not so. The Kenya project is referred to in devotions every Monday, in chapel, and in separate assemblies focused directly on World Vision and the Kenya project" Christiana Vancura, a current junior at Faith Lutheran, shared her opinion on the publicity of the Kenya Project versus other local service projects.
The argument for local service then takes a turn. We are doing things to help locally, those projects just don't have the same publicity as Kenya. This makes sense, as our partnership with World Vision is a larger endeavor and therefore more costly. However, there is still no reason those funds cannot also go to local charities and service organizations. By promoting only the Kenya Project and leaving other opportunities such as the Just One project to purely poster and student lead promotion, it gives the idea that these other service projects don't matter as much. When in reality, they do.
If you would like to get involved with local service at Faith Lutheran, the Just One project meets after school on Wednesdays and has local service events every other Saturday. The Just One Project is the largest traveling food bank in the state of Nevada and the project is headed by Erin Thompson at Faith Lutheran. They distribute food to low-income and high-risk families through their mobile vehicle.
"The Just One Project is open to any high school student. People should join The Just One Project as it is a hands-on opportunity to meet the needs of those we serve in the Las Vegas valley" Erin Thompson shared why she believes Faith Lutheran students should join the Just One project. For more information about volunteering, contact [email protected]
About the Writer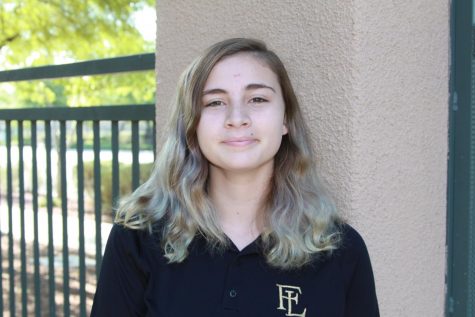 Jenna Wieners, Staff Editor
Jenna Wieners is currently a senior at faith. Outside of the newsroom she enjoys skiing, biking, and spending time with her friends. Jenna is involved...