Wilbourne overcomes tragic accident
Hang on for a minute...we're trying to find some more stories you might like.
Senior Mark Wilbourne was not able to attend his senior prom due to his recent accident. That didn't stop his classmates from voting him onto prom court.
Mark was in a severe cycling accident January 27, where his backbone and vertebrae shifted, severing his spinal cord. To this day, Mark is paralyzed from the chest down, but he has full facilities and is able to talk.
Mark's close friends ran his prom king campaign, getting him all the way to prom court. At the dance, after the queen was announced students awaited the final
decision.
"And now for your prom king," proclaimed Mr. Fogo, "Mark Wilbourne!"
Updates keep flooding his GoFundMe page as Mark's parents make sure his family and friends don't miss a single day of Mark's life. They are informed on Marks relocation to Craig hospital in Colorado for his treatments, physical therapy, and recovery.
Mark's dad's best friend Rob Novotny posts in an update, "[Mark's] really becoming more independent, leading the pack with his therapy, and just has the best attitude. As a result, Craig hospital is considering Mark as a candidate for their media outreach campaign. Making him a "Craig poster child" for how well patients can improve with the help of Craig experts and a work ethic like Mark's. He's also already booked his first race in September (No Kidding!!)"
Even with his setbacks, Mark doesn't plan on giving up, saying he would still like to compete in the coming Iron Man with a wheelchair. He also has been accepted to CU Boulder and is excited to be a Buffalo freshman in the Fall. His best friend Mark Finley plans on being his roommate.
Regarding his return home, Mark still has a lot of work to do. If he stays on track, Mark should be discharged from the hospital April 17, and will return to Las Vegas in mid-May just in time for graduation with his peers.
About the Contributors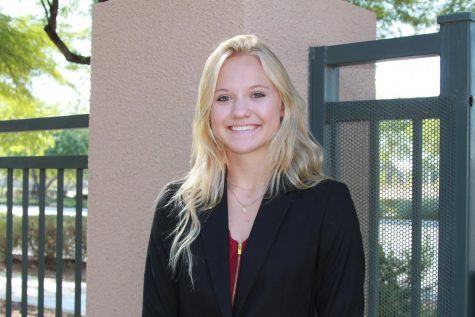 Lindsey Langridge, News Editor
Lindsey Langridge is an aspiring journalist attending her junior year at Faith Lutheran High School. When she's not writing, in her free time, Lindsey...