Lacrosse falls to Palo Verde
Hang on for a minute...we're trying to find some more stories you might like.
Opening game for the start of the lacrosse season ended with the Crusader's first loss.
The young team fell to one of their biggest rivals, Palo Verde, with a final score of 11-5. It did not set well in the lacrosse locker room after the game. However, the group seeks to take this loss and use it to motivate them on the practice field.
"We are focusing on the things that we, as a team need to do, the focus is on us as a team, not our opponent. We have systems in place that should work for anything the competition throws at us," said Head Coach, Max Schmidt.
The 2019 team is made up of more underclassmen than the school has ever seen before. The team only has 9 seniors with a total of 30 players. Along with the adversity the players feel throughout the game, the coaching staff understands how the lack of senior presence can impact the team's performance on the field.
"At any given time last week we had 7 to 8 out of 10 players on the field [as] freshman and sophomores. We also, have a great core group of seniors who have been on the team for three plus years who are able to help mentor the younger kids and show them the Crusader way," said Coach Schmidt.
Senior captain, Marcello Blanco, saw his first season opener loss within his past four years on varsity. Blanco has played with some of Faith's strongest senior lacrosse players before becoming one himself. Yet, he believes that it wasn't the age gap that was the issue, rather the team's effort on the field together.
"It was something different. I feel like we under preformed in all levels. So, we kind of deserved that loss," said Blanco.
Since the loss, the team has taken the practice field and game field with a positive mindset. They head into their next game tomorrow, Wednesday, March 13, at Centennial with a 2-2 record.
"Obviously we are trying to go to state. We have a very young team this year and I'm looking forward to seeing how they step up and how they respond," said Blanco.

About the Writer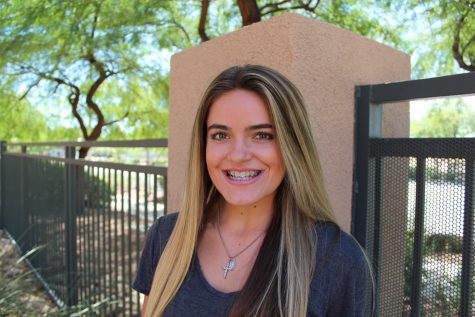 Madyson DeSpain, Sports Editor
Madyson, senior at Faith Lutheran, is in her fourth year of broadcast journalism. Maddy is a reporter and anchor in the Film and Broadcast Academy. She...