Football player commits to the next level
David "DJ" Heckard is a two sport varsity athlete at Faith Lutheran with big plans for his future.
This past week, David committed to Dixie State University on a football scholarship. Dixie State University has recently announced that the athletics will play at the Division 1 level starting in the beginning of the 2020 season. This is the schools forth football player this year to sign a letter of intent to a Division 1 college.
"I chose Dixie State because it's close to home and we will play in some big games," said Heckard.
Prior to his decision, Heckard was committed to Arizona State University for football. After speaking with Faith's head varsity football coach, Vernon Fox, and David's family, he decided that Dixie State was a better choice for his future on the field and in the classroom.
David told Ryan Wright from Recruiting News Guru after signing on March 5, "All the coaches, they had their wives and kids come up to meet us. I got a home vibe with them then. I knew right then that was the place for me."
Heckard is a defensive end on the Faith's varsity football team and a forward on the varsity basketball team. He has successfully managed varsity athletics for two years at Faith. This past season, both of his teams found themselves in playoffs. Heckard was disappointed that his teams didn't go far in the playoffs, but he still enjoyed every minute of his athletic career.
"I didn't really face any challenges while playing two sports. It's fun and I recommend it," said Heckard.
Along with Heckard, Dixie State announced the signing of 21 players as part of National Signing Day in February, including 17 high school players and four junior college players. Heckard is eager to play football at the collegiate level, along with obtaining a free education. He believes that it is the game he was born to play and is willing to do whatever it takes to play even after college.
The now, college football player, is interested in majoring in psychology because he enjoys learning about how humans think and react in certain situations. He is looking forward to graduation and growing as a student-athlete.
About the Writer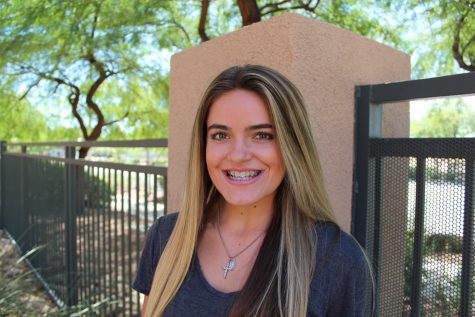 Madyson DeSpain, Sports Editor
Madyson, senior at Faith Lutheran, is in her fourth year of broadcast journalism. Maddy is a reporter and anchor in the Film and Broadcast Academy. She...