Shooting for more than 3's
Hang on for a minute...we're trying to find some more stories you might like.
In the Faith Lutheran hallways, Brevin Walter is an ordinary senior. It's only until the varsity guard steps on the basketball court, that he becomes known for the game he was born to play.
Brevin Walter grew up on the sidelines of basketball courts, raised to be the player he is today. Both of Brevin's parents played college basketball and his father, Bret Walter, has coached at Faith for 22 years and holds the title of Athletic Administrator. After playing JV his freshman year, he was brought up to varsity for regionals, making him the only basketball player at Faith to have played on varsity for 3 ½ seasons.
"When I came to middle school here I started playing for the school along with club teams, and I have played throughout my whole time here," Brevin said.
The senior is the only returner to this year's varsity team, which presented challenges to the team's chemistry. Along with 10 new players, Faith gained two key players from senior transfers. Point guard, Donavan Jackson, who transferred back to Faith after playing in Arizona for a season, is one of the new senior members of the team. Shooting guard, Sedrick Hammond, who has several division one offers, has also contributed to the team by averaging 18 points each game. The team quickly found ways to bond on and off the court.
"At the beginning of the year our team's chemistry struggled a little because of several injuries and Sedrick wasn't cleared by the NIAA to play, but as the season progressed, everyone has really gelled together," Brevin said.
Brevin models his game after Jonathan "JJ" Redick from the Philadelphia 76ers because of his ability to shoot the ball and move around the court. Suspicion aside, the varsity star stays true to his traditions every game.
"I put on my socks and shoes the exact same way every game, certain socks with certain shoes, certain shoes with certain jerseys. Then I listen to the same music before games while icing my knees," Brevin said.
Walter shoots for more than just a starter spot on Faith's varsity basketball team. Brevin believes that his basketball talents will be needed at the next level. He has offers from Concordia Portland and the college both of his parents played at, Concordia Nebraska. His skills continue to catch the eye of many other coaches from schools like UC Riverside, University of Denver, and Cal State Fullerton.
"Playing at the next level has always been a dream of mine and I can compete at the next level," Brevin said.
As for this season, Walter believes that Faith's team has full potiential to win a state title. He is averaging 18 points per game and continues to work hard in the weight room to help improve on the court. The team is full with young talent and senior leaders.
Walter adds, "We have plenty of potential because we are so athletic and everyone on the team can score. I honestly think we can win some big games this year."

About the Writer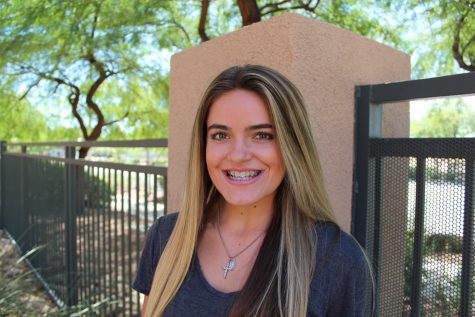 Madyson DeSpain, Sports Editor
Madyson, senior at Faith Lutheran, is in her fourth year of broadcast journalism. Maddy is a reporter and anchor in the Film and Broadcast Academy. She...