Stepping outside of the boxing ring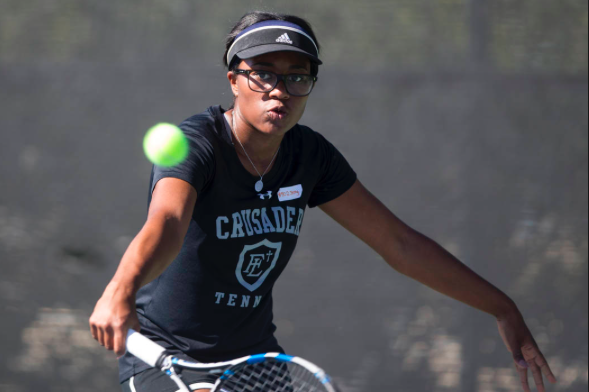 Hang on for a minute...we're trying to find some more stories you might like.
When someone hears the name Mayweather, they generally think of boxing. Junior tennis player Jade Mayweather is determined to make her own legacy. She stands out on the tennis court during matches and has grown to be a stand out player this season.

Jade Mayweather's passion started in sixth grade when she began playing tennis for fun, thinking it would just remain a hobby until she found that the sport required more of her than just a ball and racket.

"When you get serious in a sport it demands a lot from you," Mayweather said.

Before each match Jade mentally prepares herself by shaking off the expectations that come with her last name when she steps on the court. She seeks opportunities to repaint the picture of her last name in the eyes of the Las Vegas crowd; a crowd that is familiar with her family member's fortunes.

"

Tennis allowed me to open my last name to another sport that is totally unrelated to boxing. I get to be the first in my family to try and step out of the normal routine or realm and try to be good at it."

— Jade Mayweather

.

In her pursuit of success, Jade spends long hours after attending school on the tennis courts perfecting her game.

"It's a lifestyle," Mayweather said, "It teaches me a lot of self discipline."

Both her work ethic and drive to succeed makes her a role model for the younger players in Faith's program.

"Jade's 'Never Give Up' attitude shows leadership, especially to our younger players," said Coach Keith Fridrich.

"Competition and the will to win is kind of in my blood," Mayweather said, "I have given too many hours and years of myself to just let it all go."

Her hunger for success and dedication throughout her junior season, after sitting out last year, brought her to the 2017 4A state tournament. Jade was named Co-MVP this season, along with her teammate Kennedy Barr.

She is looking to continue her career in tennis at an east coast D1 college. Jade is willing to do whatever it takes for people to notice her for her own accomplishments, and she has no plans of slowing down anytime soon.

"Standards become higher the closer you are to your goal," Mayweather said.

About the Writer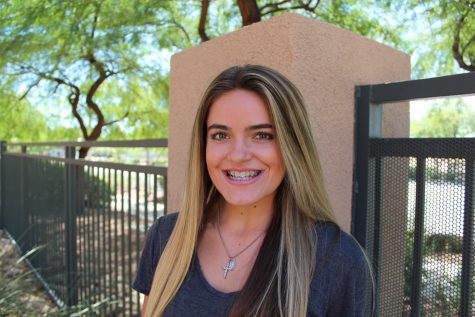 Madyson DeSpain, Sports Editor
Madyson, senior at Faith Lutheran, is in her fourth year of broadcast journalism. Maddy is a reporter and anchor in the Film and Broadcast Academy. She...