Sydney Washington: a love for the game
Senior and opposite hitter Sydney Washington has been playing volleyball since she was 7 years old. Being a 3-year varsity athlete, Sydney has been around the block and perfected her techniques to brushing off tough loses, but understands that the loses are a part of growing and learning.
"To combat stress, I like to think about God and just have fun with every game and practice because life is too short to be stressed about little things. Volleyball is something that I do, but it does not make me who I am. It is a hobby and an activity, so stressing over it and taking it too seriously would only be detrimental to the team and my overall well-being."
Washington decided to live a regular college life, free of volleyball, but being a lover of the game, she will return to the club volleyball scene to coach a 12s team.
"I want to do my best to make sure these girls understand the game and have fun doing it," said Washington.
Her favorite part about the sport is the competitiveness and having fun with her teammates.
"I play because I love the speed of the game and the close friendships that come out of being on a team sport," said Washington.
After winning the state championship with the Faith Lutheran varsity team two years ago, Sydney went on to earning 1st Team All Sunset and 2nd Team All Southern Region this year.
Sydney is a team player and an amazing leader on and off the court. According to her coach, "Sydney was the kind of athlete that other teams had to put their focus on when playing against her.  She has always had a demanding presence in the front row and she had the ability to change the course of a match to our favor and caused havoc for the opposing team.  She has been one of the best hitters in the history of Faith Lutheran Volleyball due to her great athletic ability and her tenacious spirit."
Teammate Anna Massari said Sydney is a "hardworking and motivated player who never gives up on the point."
As she departs on her next chapter in life as a college student, Sydney hasn't failed to inspire and drive newcomers to the program.
"My advice to new athletes or new volleyball players is to have fun and enjoy the sport, your teammates, and the intensity. If you're not having fun, then playing is not worth it."
Leave a Comment
About the Contributor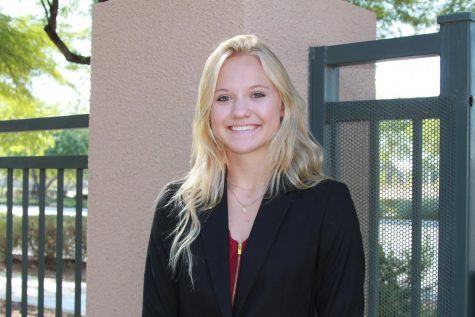 Lindsey Langridge, News Editor
Lindsey Langridge is an aspiring journalist attending her junior year at Faith Lutheran High School. When she's not writing, in her free time, Lindsey...