The Future of Faith Lutheran Football
Since the Crusaders' head coach Vernon Fox arrived at Faith in 2013, the team never had a losing record, made the playoffs every year, and had won a state championship, all in Division 1a. However, that was not enough, and this past season they moved up to Division 4A, the highest level of high school football, and despite facing tougher opponents than they ever had, they progressed all the way to the second round of the playoffs, where they lost to Bishop Gorman, one that, "was certainly to be celebrated," according to coach Fox.
The only way this could possibly happen was by the attitude and high standards in the locker room that stemmed from a great group of seniors, as one, captain Clay Shipley, said that, "We expected a state championship. You have to expect greatness to be great."
But now that cornerstone players such as Shipley, whose 127 tackles led the team and placed 8th in the state and Christian Marshall, who finished his playing career as Faith Lutheran's all time leader in rushing yards and touchdowns are done with their high school careers, what will the Crusaders' future look like? According to Marshall, "The future of Faith football is limitless. We can grow into one of the best programs in the country, and I honestly believe that will happen."
While Faith has a long way to go to become a top level program, as shown by their 58-10 defeat to Bishop Gorman, the players who have built this program from the ground up have left a legacy of toughness, hard work, and dedication, and paired with the confidence the program possesses, they can continue to build on their momentum as a program, as, "to get a playoff win and also walk away with an academic state championship was a great springboard into the future" said Fox.
With players such as Elijah Kothe, Keegan Touchstone, John Thomson, Sagan Gronauer, and countless other starters returning, Coach Fox states that they, "have great expectations and hopes of only progressing and getting better next season and beyond. We are grateful to God for his favor this past season."
Leave a Comment
About the Contributor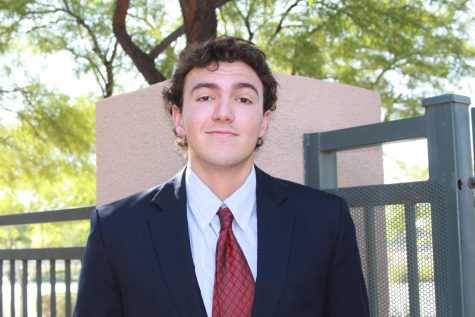 Marcello Blanco, Sports Editor
Marcello Blanco is a senior who has attended Faith since 6th grade, and has been a part of News Broadcasting since 8th grade. He is the sports editor for...