The Big Game: Faith vs. Gorman
In a season that has shocked many fans and analysts alike, Faith Lutheran Football has accomplished what few thought what possible. The team has had an incredibly successful time in its first few seasons in 4a football, let alone its first year in the highest level of high school football in Nevada. The Crusaders posted a winning record, won a playoff game, and now face Bishop Gorman in what is said to be the most important game in Faith's history.
Faith won its last game against Bonanza 43-6 led by Christian Marshall's 203 yard, four touchdown performance. However, according to MaxPreps, Faith is about to go against the third best team in the nation: Bishop Gorman High School, who has yet to lose a game this year.
When asked about their team's chances against such a dominant opponent this week, Clay Shipley, the senior captain, believes that they "can win the game, it's not impossible. It's going to be a tough fight, but our team believes that we will win and that's all we need. If we execute out plays properly and believe we can win."
With nothing to lose and everything to gain, Faith has one belief and one only. In the words of Keagan Touchstone, "we are beating Gorman — it's that simple". We shall see tonight if those words ring true.
Leave a Comment
About the Contributor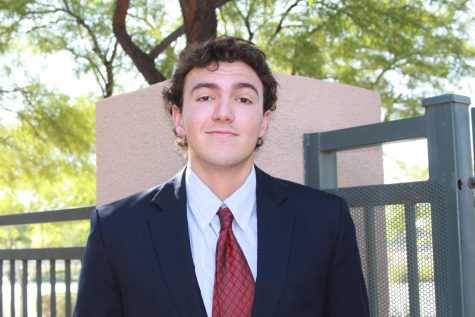 Marcello Blanco, Sports Editor
Marcello Blanco is a senior who has attended Faith since 6th grade, and has been a part of News Broadcasting since 8th grade. He is the sports editor for...