Matthew D'Arrigo shines in Conservatory musical
In May 2014, audiences attending Faith Lutheran's presentation of Shrek: The Musical guffawed at the jokes and perfectly timed one-liners delivered by the student portraying Lord Farquaad. A year earlier, audiences were overwhelmed by the hilarious UPS man with short shorts in Legally Blonde: The Musical. These two hysterical roles were portrayed by none other than Matthew D'Arrigo, a senior at Faith Lutheran High School. D'Arrigo has been involved with the Faith Theatre Company since the sixth grade, and has continued to be a part of it throughout high school. Currently, Matthew is a double major in the Faith Lutheran Conservatory of the Fine Arts in theatrical performance and dance.
The Faith Conservatory just wrapped up its presentation of John August's Broadway musical Big Fish, which starred D'Arrigo as William Bloom alongside Jackson Langford who portrayed William's father, Edward Bloom. William Bloom is a frustrated character who wants to find the meaning behind his father's stories, after being raised without him during many of the major events in his life. During his time at home, Edward would tell jokes and mythical stories with meaning and a sense of adventure as a way to inspire his son to live a bold and tremendous life. Though Edward's stories were fascinating, William couldn't help but wonder if his father's stories were true, leaving a gap between their relationship.
"This show is so realistic and hits so many moments in life that none of us have ever experienced before," D'Arrigo explains. "[Big Fish] has definitely changed my perspective on life and how I view life and family. Family is incredibly important."
Originally known as the guy who depicts humorous characters in Conservatory shows, D'Arrigo's dramatic performance of William Bloom has met critical acclaim from the student body and faculty. Mr. Doug Braun called D'Arrigo's performance "phenomenal" and "surprising", as D'Arrigo left many audience members heartbroken and amazed with his portrayal of the role.
"I'm incredibly thankful, because I've never been a lead before. It's been very different, and everyone's support has been incredible throughout this whole thing," D'Arrigo states.
Along with the praise and support for his role in Big Fish, D'Arrigo also earned "Student of the Month" for the month of January along with Blake Bell.
"I didn't know anything. When Mr. Bowline mentioned 'theater' during the announcement, Mr. Elliott grabbed my head, and I thought it would be either Marc or I. Then, Mr. Bowline said my name and pointed out my family and I was totally surprised," D'Arrigo recalls.
As a senior soon to graduate from high school, D'Arrigo originally planned on attending college undeclared; but with a successful experience in his recent performance, D'Arrigo admits that Big Fish has given him the drive to pursue theater beyond high school.
"Big Fish has changed my outlook on college. I've decided to audition for college and pursue theatrical performance after graduating high school," Matthew asserts.
With perseverance, hard-work, and the confidence to dream, Matthew D'Arrigo will have a future that will be as bright and as grand as he is.
About the Contributors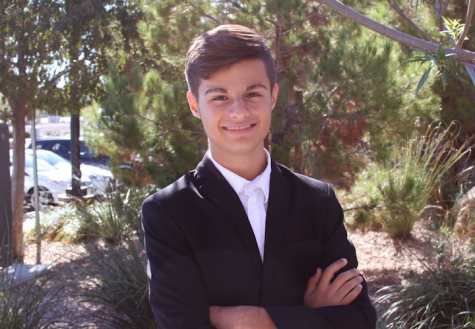 Ricky Cornish, Editor-in-Chief
Ricky Cornish is a senior at Faith Lutheran High School, and editor-in-chief for the Academy of Film and Broadcast. Ricky anchors and reports for the Faith...