The Gabby Petito Case
When people think of traveling, they often think of highlights of the places are going and what they are doing. In general we don't pause to think of negative outcomes. Gabby Petito, a 22 year old pharmacy technician and travelling enthusiast; who had been travelling in a shared van with her fiance Brian Laundrie for a month-long trip, had suddenly vanished towards the end of the couple's trip. Petito was reported missing on September 11, 2021 to the Suffolk County Police Department by her family. 
Petito and Laundrie, who were highschool sweethearts and believed to have a picture perfect relationship. Although behind closed doors friends say otherwise. According to People News, Rose Davis, Petito's best friend described her relationship with Brian as "toxic" and "full of jealousy". Petito and Laundrie started dating during Petito's sophomore year and Laundrie's junior year of highshchool. When Laundrie graduated the following year the couple broke up, they soon got back together a year later when Petito graduated. Due to Brian's jealousy issues according to Davis the couple fought a lot and when they did, it was pretty bad. 
Recent police body cam footage has been released where a police officer confronted Petito and Laundrie during what seemed to be a very heated argument. Petito was described to be "distressed" and "out of sorts" according to police. Supposedly, this incident happened days prior to Petito and Laundrie's disappearance. Gabby was later found deceased in a Wyoming campground, however Brian has still not been found. A bounty has been placed for his apprehension with a promise of $20,000. The public and law enforcement have turned to new forces, such as hiring Duane Chapman aka "Dog the Bounty Hunter". 
If you want more information check out the Crusader Chronicle's broadcast published on September 30, 2021. More coverage will also be featured in future broadcasts and written articles.
Leave a Comment
About the Contributor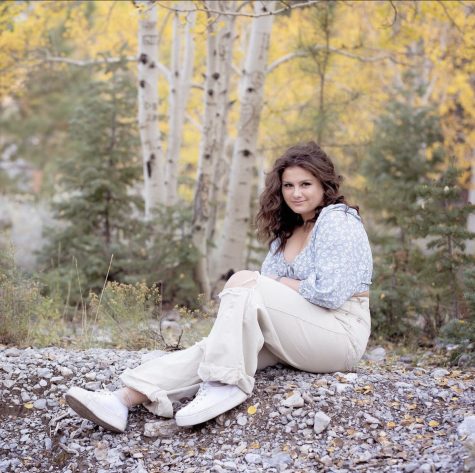 Alexandra Psak, Editor
Alexandra is a senior at Faith Lutheran. She goes by Alex and has been attending Faith Lutheran for seven years now. She is part of the Broadcasting branch...