The Road To Commitment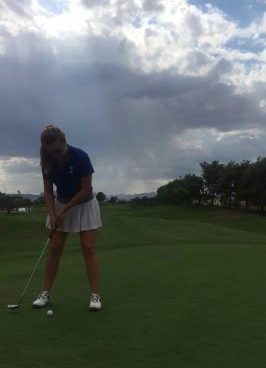 Hang on for a minute...we're trying to find some more stories you might like.
Morgan Goldstein is not your typical golfer. She has accomplished what many others haven't. Some of her achievements include: placing first in the Drive, Chip, and Putt Competition in the girls 12-13 age division, competing in the American Junior Golf Association (AJGA), winning an AJGA competition in Washington, and most recently, her commitment to the University of Iowa.
"I had a putt that was 80 feet and I went up to my dad before I even walked on the green in a tournament and I said, film this. I knew I was going to make it and he filmed it. I drained it. It was pretty sick," Morgan said. 
Morgan is very confident in her putting, and believes it is one of her greater skills when golfing, although there are times when she loses her confidence. She believes her lack of confidence can really affect her sometimes. She can get nervous and shaky, yet she doesn't let it show. When competing, she makes sure to not show any emotion, so her opponents aren't able to tell whether she is doing good or bad.
Her brother, Aidan Goldstein, believes that Morgan is best when it comes to putting, and there is no arguing to that seeing that she won the Drive, Chip, and Putt competition in 2015. In fact, she holds the record for scoring 10's in driving, putting, and chipping in the Drive, Chip, and Putt Competition that still hasn't been beaten. That record has been held for 5 years already.
"A lot of people say when you go to a certain college it clicks, and that is how I felt when I went there," senior Goldstein said.
Morgan enjoys talking about the college recruitment process and how she chose the school. The Iowa golf coaches would travel out of state to multiple tournaments that Morgan competed in, some even as far away as California.
"When I went on a tour of the campus, they sat my dad and I down and talked to us for a little bit, then said they would love to have me on their team. They said they would give me a full ride." said Goldstein.
Just a couple days later, on July 28, 2017, Morgan decided to Facetime the coaches at Iowa telling them that she had decided she wanted to become a Hawkeye. On November 14, 2018, Morgan officially committed to University of Iowa to play women's golf.
Along with Morgan, Canon Olkowski committed to CU Boulder the same day Morgan signed. He believes that she made the right choice.
"When she visited, she was really excited and I could tell she loved it there by the way she would talk about it," Canon said. 
He says that choosing the right college can be hard, but you know when you've found the one that fits. Morgan loves the Midwest and the fact that it has 4 seasons. She wanted to be somewhere it snowed, as it doesn't snow very often in her hometown, Las Vegas. Those factors combined, with such a welcoming team, gave Morgan confidence in her choice being University of Iowa.