The Green Thumb of the Greenhouse
Hang on for a minute...we're trying to find some more stories you might like.
If you have ever walked around the Faith Lutheran Jr./Sr. High School campus, you may have noticed milkweed planted in the ground that attracts caterpillars. Or perhaps, the new state of the art greenhouse that is home to educating students about horticulture and giving the produce to charity. This new environmental benefit to Faith Lutheran has a student leader, and his name is Zac McPherson.
Valedictorian Zac McPherson is the ideal academic student taking a total of eleven AP classes and acquiring a 4.64 GPA. Aside from being a scholar, McPherson also participated as a varsity lineman on the football team and ambassador of The Kenya Project. However, being the cofounder of the greenhouse is his most well known title.
McPherson started his environmental pursuit at Faith during his sophomore year by demonstrating his interest in erecting a greenhouse on campus. "I went up to Mrs. Blank and I asked if we could plant milkweed on campus in a greenhouse. She told me some other people wanted to make a greenhouse as well. So, I joined that group and we went around to a couple of different businesses in the area, including Switch ™, to ask for financial support. We were able to raise $300,000 for the greenhouse," said McPherson.
The greenhouse offers a horticultural education and gives students access to cutting edge equipment unparalleled in many greenhouses. In addition to a botany class, revolved around the greenhouse, along with multiple science classes using the facility every day, there is also a club that allows every student to be included. The Greenhouse Club, started by McPherson and Elijah Lee, maintains the greenhouse, sells produce, and donates lettuce heads to catholic charities.
McPherson's work involving the greenhouse was a confirmation of his environmental passion. "I always knew that I had a passion for the environment, but I never had an outlet to fully discover it. I am beyond thrilled that I became involved with the greenhouse my sophomore year because it allowed me to realize this aspect of myself during my senior year. I am in that greenhouse almost every day and am truly content inside of it," said McPherson.
McPherson's plans to pursue environmental engineering in college with the long term goal of innovating the greenhouse field.
About the Writer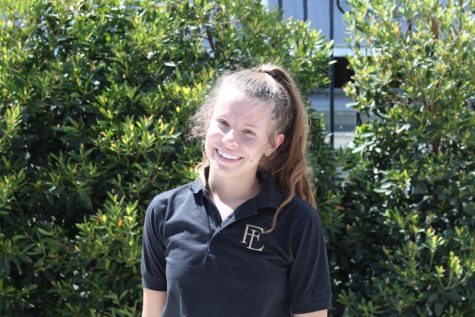 Haley Lilla, Staff Writer
Haley Lilla is a senior  and has been attending Faith since sixth grade. She is involved with The Kenya Project, ITS, the Conservatory, Honors Institute,...