Per(Suede)d to go to Prom
Instagram famous Suede Brooks, invited to Faith's prom by junior, David Heckard
Hang on for a minute...we're trying to find some more stories you might like.
Recently, social media influencer, Suede Brooks, visited Faith Lutheran to talk about how social media changed her life for the better. Suede is a great example of an everyday girl, turned celebrity with nearly 1 million followers to her name.
After Brook's presentation, she asked if there were any questions from the audience. It was at this exact moment that David Heckard raised his hand and asked Miss Brooks "how many retweets to take you to prom?"
She fell to her knees and began to laugh. To his surprise, she said yes. The whole school erupted and was excited for this outcome. The real question remains, will they actually go to prom together?
Heckard and Brooks answered the questions we so desperately want to know.
"At first it was a dare, but then I realized she is pretty cute, I thought I'd shoot my shot," said Heckard.
Heckard did not expect Brooks to say yes to his proposal.
"I was surprised, but also not really, because I felt like she was going to say yes because it was in front of everybody," said Heckard.
"
At first it was a dare, but then I realized she is pretty cute, I thought I'd shoot my shot."
— David Heckard
Heckard is uncertain she will actually show up to prom as his date. However, Brooks disagrees.
"I have to come, you can't ask me and then I say no, that's not the deal. I think we'd be a really good look," said Brooks.
So far, scoring a date to prom seems like a big accomplishment for Heckard, but the question still remains: will we see these two together at prom?
I guess we will have to see for ourselves.

About the Writer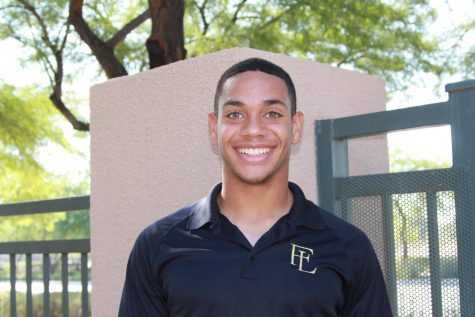 Yasha Chapman, Staff Writer
Yasha Chapman is a senior at Faith Lutheran. He is here as an international student from the Netherlands. He is very excited to be in the honors broadcast...