From Grass Fields to Greatness: James Gravitt and his Coaching Career
"My son was in fifth grade and wanted to play lacrosse. He started practicing and the current coach needed help so I just jumped in!", said James Gravitt, head coach of Faith Lutheran's varsity lacrosse team. That was the beginning of Gravitt's coaching career, one that has spanned numerous championship games, had many players head on to play collegiately, and as of Saturday, his first SNLA championship victory.
Coach Gravitt originally started coaching to simply assist his son's middle school lacrosse team, never planning on becoming the head varsity coach of Faith Lutheran's lacrosse team. But once he started coaching, he simply couldn't stop.
The program was not always as enriched with the tools it has today, with former professional players on the coaching staff, a brand new turf field, and the support of the school (in Gravitt's opinion), as just ten years ago it was drastically different.
"We had half the players and played on single grass field that was always pretty beat up from football season. The school was not involved with the program at all and most of the time we felt kind of like the step children on campus," said Gravitt.
However, over the years the program started to have success, a new turf field, more support from Faith (in Gravitt's opinion), and more recognition for the team. A large part of that was Coach Gravitt's own son, Grant Gravitt, currently a player on the University of Denver lacrosse team, currently ranked #2 in the nation by the Maverik Men's Division 1 Media Poll, and Faith's all-time leader in points. However, plenty of clashing between the two occurred due to the struggle of balancing coach and dad with his son.
"My son, Grant, was probably the hardest person I ever coached. I was always pushing him to limits that a normal coach would not do. 24/7 it was Faith Lutheran lacrosse between he and I, it was not healthy, and he and I had our difficult times."
Along with his son, other players such as Michael and Matthew Manfredi, Christian Marshall, Nick Wendel, Grant Malone, and Clay Shipley* emerged as key players for the program, most currently committed or playing for a Division One lacrosse team.
"Putting back to back years of talented lacrosse players together at a high level with such a small talent pool to work with" was the turning point of the program in Coach Gravitt's view, as the development of those key players led to the program becoming one of the best in the state, and now as a result receives full support from Faith Lutheran and its athletic department (in Coach Gravitt's opinion.)
"
If up to Coach Gravitt, he would be known as, "A Christian man who loved the game, who loved his players like sons, and who will be remembered as a man they looked up to and always knew that he would be there for them.""
— Coach Gravitt
Something Coach Gravitt has dealt with, besides running two businesses, is Addison's disease, a rare disease of the adrenal glands, which makes him have no adrenal function at all. Having to take medication, "just to function" it takes a massive toll on his body. "Most of the time you will see me on the sidelines taking a knee as I get pretty tired most of the time and my body at times feels like I'm 75," said Gravitt. His wife, Mrs. Candice Gravitt, sees the toll it takes on his body as, "the schedule of working every day and going straight to practice is really trying on him physically." As such, she calls him, "the strongest man I know."
But what exactly caused him to decide that this would be his last season? It ultimately came down to family. "When my son graduated in 2014 it just didn't feel like the end for me as a coach and I did not want anyone thinking that I was just there to coach because of my son. I was coaching because I love the game and I love Faith Lutheran, but when my daughter graduated in 2016 I felt like I lost a connection to the school. Some of the seniors this year I have been involved in their life since 5th grade, this year just felt like the year for me to step aside."
Now that Max Schmidt, current assistant coach and former college all-American and MLL champion has been appointed to lead the program starting next year with John Greeley, former player for Johns Hopkins and number one overall recruit, all that remains is what Coach Gravitt will be remembered for. If up to Coach Gravitt, he would be known as, "A Christian man who loved the game, who loved his players like sons, and who will be remembered as a man they looked up to and always knew that he would be there for them." With the impact James Gravitt has made on Faith Lutheran's lacrosse program and players throughout the years, he will be remembered in time as possibly one of the greatest coaches in Faith Lutheran athletics.
*The University of Utah, the college Clay is committed to, is not yet a Division One team, but is working to be around the 2019 season.
Leave a Comment
About the Contributor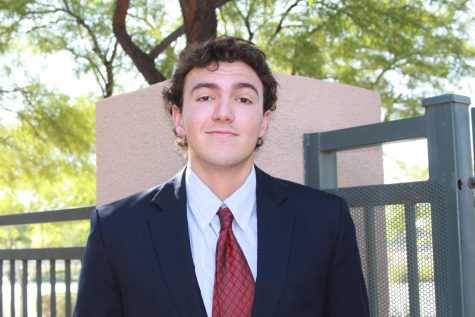 Marcello Blanco, Sports Editor
Marcello Blanco is a senior who has attended Faith since 6th grade, and has been a part of News Broadcasting since 8th grade. He is the sports editor for...