The Future of Film: Robert Flummerfelt
Robert Flummerfelt is a man of many talents and interests, graduating with three Faith Lutheran academies on his transcript, his own film company, and owns a film awards ceremony that is well known throughout the world, and he's within the top tier of the senior class at Faith, people find themselves asking what can't Flummerfelt do?
In June, Flummerfelt will be graduating from Faith's Film and Broadcast Academy, Business and Entrepreneurship Academy, and the Justice and Advocacy Academy. Each academy at Faith has its own set of criteria that must be met throughout high school to be able to graduate with the honors of the academy on the student's transcript for colleges to see the hard work and interest the student put into that particular academy. For Flummerfelt to put the time and effort into one, let alone three academies, is one of Flummerfelt's many admirable accomplishments made throughout high school.
Flummerfelt's high school accomplishments don't end within his involvement within the Academies Faith offers. Flummerfelt is also an active member in DECA and Model UN. Between making films in Faith's film club and debating in persuasion argument classes, Flummerfelt is also actively aiding in raising money for the construction of the new addition to the Faith campus, the first ever greenhouse. The greenhouse will add to the learning courses of the STEM program and Mark 10:14 program. Flummerfelt is sponsoring a GoFundMe account for the greenhouse along with making short video presentations for different parties involved with the greenhouses development.
At the same time as Flummerfelt is overseeing and participating in all of these activities, he is an active filmmaker, with his own film company and annual film festival. Flummerfelt fell in love with filmmaking at the age of six, and his admiration and passion has grown more fiery and seriously every since.
"I really started getting involved with the nitty gritty as far as editing goes, and different editing programs when I was in the ninth grade. I had gotten really serious with it and made an independent science fiction film," said Flummerfelt.
The film he made in ninth grade entitled "Dark Horizon", won awards and scholarships for Flummerfelt's writing, directing, and editing of the film.
After the success of "Dark Horizon" within the film industry, Flummerfelt's desire was to make another film, but had one problem: money.
"Films are expensive. I saved up like three or four thousand dollars just throughout middle school, and blew it all on ["Dark Horizon"]. I wanted to make another film, more involved financially, but I had no cash and no one to float me any cash," said Flummerfelt, "that got me thinking, maybe I could actually monetize these skills, start to sell work to companies, use that to pay for independent films, so I started, first and formally, just contacting companies."
"
Today is the oldest you've ever been and the youngest you'll ever be again, stop delaying making your life better and go out and do what you want to do."
— Robert Flummerfelt
From that point Flummerfelt started doing business with small companies, law firms, and even some big name companies. His biggest local name companies he does work for include a medicine branch medical marijuana company and Las Vegas Color Printing. Flummerfelt makes media packages and billboards for both companies.
Once business really started taking off, the summer of 2016, Flummerfelt opened an office and studio, Flummerfelt Studios.
Not only does Flummerfelt direct, edit, and produce his own films, he hosts his own film awards, the Galaxy Film Awards. The Galaxy Film Awards, http://galaxyfilmawards.com/, is an annual film festival where filmmakers from around the world have an opportunity to submit their independent films with only a fifteen dollar submission fee. Over 200 hours worth of short films were submitted for last years festival and over 250 films were played at the festival. For the 2017 festival, which will be held in October, has already over 1,600 films submitted from over 75 countries.
"What I like about that business, [the Galaxy Film Awards], is money comes in because people are sending in their films and then you really only have to organize something for three days out of the year, so that's organizing an event," said Flummerfelt.
Flummerfelt knows that he wants to continue to learn, grow, and succeed in the film business in the years to come, but he also believes it is important to get a college education.
"I'm also interested in getting an education outside of film because I talk to a lot of people who make films who are successful and they all say go to college don't go to film school," said Flummerfelt.
Flummerfelt's plan is to go to college in the fall and to continue business like he has in the past to make his short films.
"I would like to see about trying to finance a film myself, without the studios, and bring it to them once it's complete, and get them to distribute it to theaters," said Flummerfelt. "If you can do something like that effectively and turn a profit for the studio, then you're in the door as kind of a big film maker."
With Flummerfelt leaving his legacy at Faith behind in less than three months, the advice he gives to anyone who dreams to be successful is, "today is the oldest you've ever been and the youngest you'll ever be again, stop delaying making your life better and go out and do what you want to do." 
Leave a Comment
About the Contributor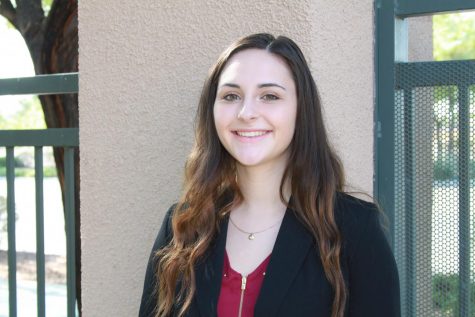 Shae Turner, Editor in Chief
Shae is the current Editor-in-chief of the Crusader Chronicle and main anchor woman of the FLNN. Shae is in her sixth year of written journalism reporting...