Fearing rejection doesn't stop students from auditioning
The Faith Lutheran Theatre Company puts on spectacular performances year after year. With the new Conservatory of the Fine Arts, the school offers a variety of performances. In order to be a part of these performances, an audition is required.
During auditions, tensions rise and students sometimes buckle under pressure. This leads to students fearing rejection, which can cause them to not audition or quit. For students like junior, Christopher May, auditioning can be nerve-racking, but he goes for it anyway.
"Even if I get a small part with one line, or the main role with 100 lines throughout the play, I just want to be in it and do what I love," said May.
Freshman Micah Fogo said, "At first it was scary, but as I got older it got easier. Even as I grow up it I'm still scared of the competition, but I don't think that students fear auditioning. I'm always anxious but I never fear auditioning."
Though there are many different ways to think about it, most people are fearful when it comes to auditioning. Unlike Fogo, freshman Naree Asherian claims auditioning can be unsettling.
"It's always scary walking into the auditioning room."
While some students experience heightened emotions, those on the others side of the audition table say it is all about helping these students with their emotions, and have advice for those auditioning for any production.
"Talk to the directors or pray and leave it in God's hands," said Mrs. Ball, Dean of Fine Arts.
Even students who have spent their whole high school years in the theatre program say may only get a small part, and still have fear when they audition for the next play.
"Although the arts is a subjective place, we try to get outside professionals and try to make it as fair as possible, even though the arts is not a fair place," said Ball.
All students should know that the directors want to see students succeed and want them to do their best. However, there will be stiff competition, and they want everyone to leave feeling good about themselves.
For students that have a lot of fear, it is also advised to listen to music because this can calm nerves. Another suggestion is going with a friend because for some, it is not a good feeling to go alone.
Drama department enthusiasts insist that no matter what,  your fear shouldn't stop you from doing what you love. If you ever need help, talking to the counselors at the school is a great way to calm your emotions about anything.
About the Contributor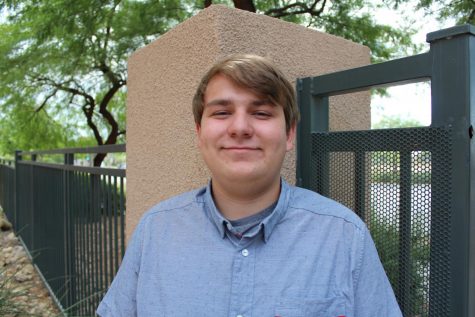 Myles Bauman, Staff Writer
Myles Bauman, junior, has been going to Faith Lutheran since 6th grade. He joined Broadcast Journalism because he is interested in editing and putting...