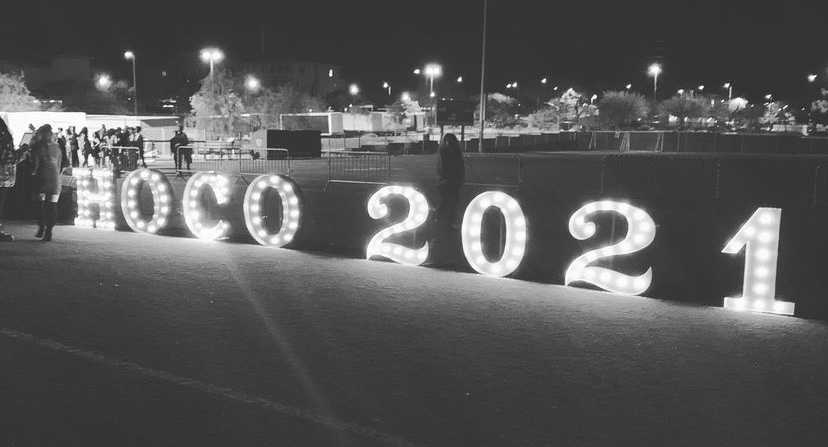 From matching corsages and boutonnieres to classy outfits and fancy updos, Homecoming was a special night that no one would forget. Faith Lutheran's 2021 Homecoming Dance was held on October 16, starting at 7:30 p.m. and finishing around 10:30 p.m. Before the gates opened, there was a mile-long line outside the doors! Everyone wanted to get into the event as soon as possible. Rightly so! How could anyone not be excited to dance the night away? I was definitely giddy with anticipation!
Preparation was key. Our homecoming dance's theme was "Dancing Through the Decades." Student Council members and numerous volunteers put in an incredible amount of hard work to make sure everything ran smoothly, and their efforts paid off. From the photo booth to the food trucks, the festivities were a huge hit.
"I thought the best part about Homecoming was how well our school planned everything out. They really covered all bases. Everyone made sure that there were water stations all around, heaters running, and games commencing," said Khang Nguyen 22'
It had been two years since Faith Lutheran's last homecoming dance, in 2019. So when administrators officially confirmed this year's homecoming dance was going to commence, everyone certainly had mixed feelings about the previously regular occurrence. Would there be any feeling of pre-pandemic normality? How would students feel safe while Nevada is still enduring COVID-19? To account for these concerns, Faith's teachers and administrators took extra precautionary procedures to maintain all students' safety, security, and well-being. In addition, students loved the thoughtful accommodations because mask requirements were relaxed. Our boys' sleek haircuts wouldn't be ruffled, and our girls' gorgeous makeup looks would stay flawless!
"The best part about homecoming was having the opportunity to be surrounded by my friends without tireless restrictions of masks or social distancing," said Nate Friedlander 22'.
The dance was held on our school's soccer field. Heaters and water stations had been placed all around the event to ensure a more comfortable experience. However, a big concern was the weather. The temperature high for October 16 was 79 degrees with a low of 50 degrees. With most girls wearing slightly above knee-length dresses, everyone was worried about freezing during the night! In consideration of their frigid fears, a majority of female students brought coats to stay warm. Yet, throughout the night, most girls didn't even wear them! With all of the groups dancing in big bundles, it was the opposite of cold.
"The weather was fine for the most part, it was cold, but in the middle of the dance floor, it was really warm. Everyone dancing around in a clump helped us not freeze," said Kendall Bear 22'
Overall, every attendee that was interviewed had a fantastic time at Homecoming. Everyone had unique experiences, filled with memorable moments. Yet, the most highly praised homecoming feature was the dance floor. Students gathered in tight, mosh-pit-like crowds to rock their hearts out. A few love songs played at the end of the night, and couples sweetly swayed back and forth to the soft and slow rhythms. From popular songs like "Levitating" by Dua Lipa or "Body" by Megan Thee Stallion to early 2000s throwback hits like "DJ Got Us Fallin' In Love" by Usher or "Airplanes" by M.I.A., the music gave Homecoming an irresistible motive for everyone to dance through the decades!
"I thought the dance floor was beautiful, and everyone, including myself, looked like they had a really fun time dancing," said Abi Walker 22′
Whether people like to admit it or not, everyone occasionally wants to get all dressed up for special shindigs! Homecoming is a night for everyone to feel special. Girls get to be striking spectacles in their sparkles and bold colors. Boys get to act too cool for school while sporting their snazzy suits. During the night, everyone looked like stunning knockouts!
Though this current decade, filled with adversity, will be unforgettable, 2021 has been a year of fantastic opportunity. Through the monotonous disappointment of COVID-19, Faith Lutheran and all of its exemplary students have found ways to bring exciting changes to previously high esteemed events. Positive aspects of the dance heavily outweighed the minor inconveniences. I, along with many other students, have greatly appreciated everyone's hard work towards providing unforgettably pleasant experiences like Homecoming 2021. I can't wait to see what wonderful possibilities come out of the 2021-2022 school year!
To learn more about the flaws and downsides about Homecoming 2021, keep reading below.
The 2021 Faith Lutheran Homecoming occurred October 16, on the soccer field. A few days prior, the temperature dropped to about 70°. On the day of the dance, the weather was a little breezy, resulting in many being cold for the dance. Already questioning the dance's placement outside, many were not happy about the chilly weather.
The student council provided heaters, but they were only allowed on the street because the gas lamps were a fire hazard to the soccer field turf. However problems arose at the dance and a few heaters broke, leaving many cold and angry.
"I was cold the entire dance because I didn't want to keep walking downstairs to the heaters and it did not seem covid-friendly warm up on the dance floor. A few heaters weren't even working and I was not interested in playing any of the games so I was bored and freezing the entire time," said Aly Thompson, a student who attended the dance.
The dance taking place on the soccer field meant any area that was not the dance floor or food truck area was soccer turf. The soccer turf landed in many students' shoes, specifically those who did not wear tennis shoes.
"I got a lot of turf in my shoes because I did not remember to bring any. I wish I had gotten more of a warning but I want to be able to wear the shoes I want without having to worry about turf getting in my shoe," said Thompson.
Several complaints regarding the food trucks were also discussed. Students were given two wristbands at entry; one for an entire meal and the other for dessert. After they ordered, their wristbands were cut off, so they could not buy anything more. This process upset many students like Tobi Alabi, who still felt hungry after he ate.
"I got tacos and they were very greasy and tiny so I was still hungry. I would have ordered something else if I knew that was the rule for the food trucks. There were not even very many options for dessert."
The dance could have resulted in many different ways, and the student council had to be prepared for it all, even though they had never done an outside dance like this before. Some problems that did occur could not have been avoided while others will be fixed for future years.
"We had to choose the later date because of the way the football schedule went. It was either October 16th or the third week of school, so we chose a later date to make sure we had enough time to prepare. The heaters broke during the dance and there was no way to fix them. It was the company's fault, not ours. For Future years, we will make sure to send out more warnings about the food and shoe situation as well as lay snack tables around for hungry students," said Kaitlyn Hemberger, a student council member.
Because this was Faith's first homecoming in two years, the student council tried to leave a lasting impression. Debate on whether the impression was good or bad depended on many people's feelings about the dance's outcome.