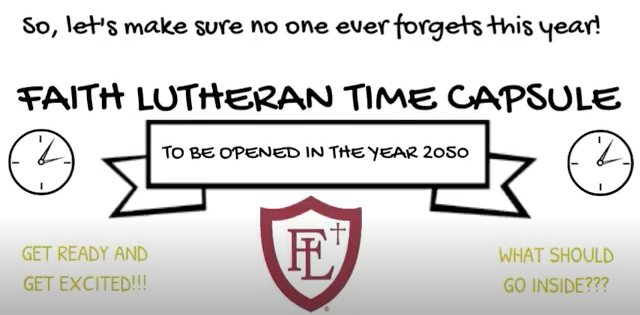 Just about anyone you ask would say they want to put 2020-2021 behind them, and that was one of the main reasons Faith Lutheran's student council decided to bury memories in a time capsule.
This time capsule will be opened in the year 2050 while possessing the memories of the past and current school years with Covid. The time capsule would not be fun without any Faith Lutheran students' input, so it will contain an item from each advisory. Things such as a yearbook, mask, hand sanitizer, and a social distancing sign will be provided in the time capsule by student council members.
"The time capsule is 20″ wide, 32″ long, and 12″ tall," said Miss McDaniel, the FLHS Student Council Advisor. The space is enough room for all advisories here at Faith Lutheran, including middle school.
The time capsule involving middle school and high students is a great way to get the school involved before the year ends. Even if current students cannot come back for the "de-burial" ceremony, memories of this unusual year will remain in the capsule, so future students can experience what students in 2020 dealt with. "The time capsule is a cool way to remind students about the hard year we have gone through and can share our favorite things that may be outdated by then," said Sabrina Rosenbusch, a Student Council member.
Student council members will place lists of trending songs, apps, etc., in the capsule for students in 2050 to enjoy. Advisories placements in the capsule will be the size of a sandwich bag to fit all items. As long as it fits in the bag, advisories can include something. The bag is a chance for students and teachers to work together, be creative, and be more involved with the school.
"I think advisory groups will have fun brainstorming creative ideas for what to put in the capsule, so I think that activity in itself will naturally bring students together," said Miss McDaniel.
There is no better year to place a time capsule to remember the good and the bad in the past school year. The student council has worked hard and is excited to end this challenging year with a capsule, holding all the memories of this year.
"As a senior, I think this time capsule is a good idea because it will be the final memory that will hold at Faith before I go," said Amelia Coumou, a senior at Faith Lutheran.
Advisories can drop their items off at Mrs. Buuck's office, the StudentLife Director. However, the deadline is April 29th, and the student council will come to pick up items if not received by 12:00-12:30 pm.
"Examples of items include pictures, jewelry, knick-knacks, trending items, or anything your class desires. If you have a special item or think of one that exceeds the size of the sandwich bag, please email me to get approval," said Miss McDaniel in an email sent out to the school.
Advisories may also have a paper signed with everyone's signatures. If there are any questions, make sure to email Miss Mcdaniel, [email protected], and check emails for updates. Remember, be unique!