Virtual Learning: A Tale of Two "Cities"
With 14-days to flatten the curve turning into Groundhog's Day, online learning is leaving many students behind.
Even before COVID-19 hit and education in Nevada was largely forced into virtual learning, students at Faith Lutheran Middle & High School were fortunate to have their own devices, access to the internet on and off-campus, and even online-only learning days to prepare for future online courses in college. Unfortunately, not the same can be said of students in the Clark County School District (CCSD) and in other school districts across the nation, causing many to fall behind or even through the cracks.
CCSD, which had plans on reopening with a hybrid model on January 4, 2021 has pushed back their tentative reopening to January 19. Superintendent of public instruction, Jhone Ebert is urging state leaders to provide specific criteria to help in decisions on reopening classrooms. According to the Las Vegas Sun, Superintendent Ebert's desire to move away from full-time virtual learning is "driven largely by concerns about disparities in academic achievement between higher-income and lower-income students taught strictly through distance learning".  Confirming these concerns is a study by McKinsey & Company stating that low-income and minority students are far more likely to fall behind or end up dropping out since they are "less likely to have access to high-quality remote learning or to a conducive learning environment, such as a quiet space with minimal distractions, devices they do not need to share, high-speed internet, and parental academic supervision."
These issues are in full display in Las Vegas where, in mid-October, over 7,500 CCSD students were still in need of internet access, 3,300 still needed a device, but 3,053 students were still considered "missing" as they did not have any contact with the district since the beginning of online learning last August. This phenomenon is not particular to Las Vegas, since the largest school district in Alabama recently reported that 5,000 of their students haven't shown up for class online or in person. Because of a lack of accountability and urgency from the "grown-ups" in their lives, these students have missed out on learning opportunities they can never get back.
Although numbers aren't in for Clark County, school districts around the country are noticing alarming trends. In Virginia, middle and high school students with failing grades in two or more classes were up 83 percent compared to the same time last year. The contrast is even more striking with younger students with a 300 percent increase in failing grades overall for middle school students, a 600 percent jump for female middle schoolers, and a 400 percent increase in F's for both disabled and Hispanic students. Statistics like these are making it clear that virtual learning is not a sustainable solution.
Experts are warning that these disparities will lead to increasingly severe loss in learning for these students and exacerbate the persistent academic gap between the haves and the have-nots. Superintendent Ebert noted that "students in high-middle zip codes progress in math achievement continue to move up, while students in low zip codes areas, their achievement is going down." The fact is that years of progress in bridging the achievement gap are being lost. With cases of the virus on the rise across the United States and increased restrictions on schools and businesses in Nevada, it seems like distance learning is here to stay, at least for a short while, and so are the damages it leaves in its path.
Unlike CCSD where 100 percent virtual learning is the only option, as a private school with more operational freedom and means, Faith Lutheran High School was able to operate a hybrid model. Surprisingly, according to Dr. Steve Buuck, Faith Lutheran's Chief Executive Officer, 86.8 percent of students chose hybrid (Option 1), 12.4 percent chose fully remote (Option 2), and .007 percent are learning remotely while taking 1 or 2 classes at school (Option 3). Principal Scott Fogo also points out that although teachers were happy to have most of their students back in class on a rotating basis, "the constant managing and teaching in both environments (in-class and online), increased lesson planning, double to triple the emails, and increased supervision duties at school (to keep students safe) has left many teachers exhausted". With the welfare of its teachers and student body in mind, and depending on local government and health officials' authorization, Faith Lutheran is set on returning more students on campus full-time starting January 4, 2021. According to Dr. Buuck, 87 percent of students plan to be back 5 days a week and 13 percent plan to continue remote learning from home.
Considering other kids around the city and the country, Faith Lutheran students say they have a lot to be thankful for.  CCSD will be on its way to return their kids back to class soon for the benefit of all students, regardless of the color of their skin or socio-economic situation. The adults in their lives, parents, teachers, administrators, and government officials owe it to them to do better and stop being complacent when it comes to their children's future, which after all, have been placed in their hands for better or worse.
Leave a Comment
About the Contributor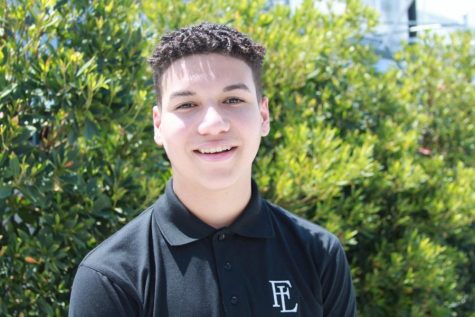 Immanuel Neeley, Editor
Immanuel Neeley is a member of the Film & Broadcast Academy and a senior at Faith Lutheran High School. This will be his fourth year in broadcasting....