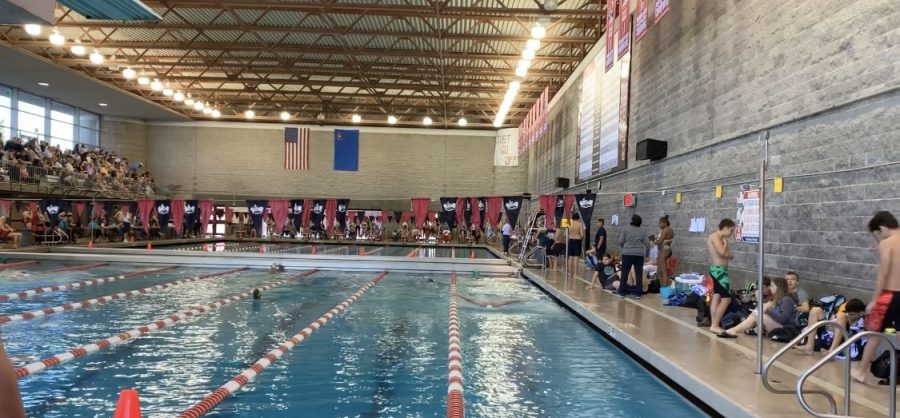 On Thursday, March 12, the Clark County School District placed a cancellation on all after school activities and extracurriculars due to the increasing development of the COVID-19 pandemic. At the time the announcement was made, Faith Lutheran had no stance on its extracurricular cancelation, but since the school is closely linked with CCSD sporting operations, Faith looked to have no choice but to pull their sports seasons as well. At the time, practices were to continue on on-campus fields, but the news was different for the Faith Lutheran swim team.
"Swim and Dive uniquely are bound together in the financial contract and scheduling with CCSD use of city and county pools. So, even though Spring practices can continue for other Faith sports, our unique relationship with off-campus, public facilities has removed the possibility for swim and dive practices," said Coach Blank via an email to the swim and dive team.
Since March 12, Faith Lutheran has followed recommendations and laws from the state to go strictly to online learning and to cancel all sports practices and extracurricular activities that would be on or off-campus. The news is welcomed by many as the pandemic continues to spread and many are concerned for their family's health. While I know that the decision to cancel spring sports seasons, at least for the time being, is a good one and there is no doubt in my mind that this was the decision needed to be made, it does not make it any easier to realize that I will be missing one of my last swim seasons.
As anyone who has ever played a sport can attest to, many athletes train all year for a season that lasts maybe a few months. For those who do not understand how the sport of swimming works, I will tell you a few things. Swimmers may not say it, but they love their sport and as much as we wish that we didn't have long meets or practices, we couldn't imagine our lives without it. Secondly, training all year for one meet, for two tenths of a second is what our lives revolve around and though it may seem silly, swimming is most of our lives and we live for that one race, that one relay, or that one time we have been wanting to see for the last year. Not getting to compete at that meet or have the season that most the school year leads up to is really hard to come to terms with.
I write this knowing that there are bigger things in the world, bigger problems in this country, and bigger struggles in the Faith Family, but I can't help to think about what could have been. The Faith swim team had a large number of new freshmen additions and there was an overwhelming positive energy and outlook going into the upcoming season. For those who had never seen a swim meet before and for those who have seen too many to count, the meet that was scheduled for Saturday, March 14 was looked on with excitement and should have been a strong start for the swim team. The meet didn't end up happening because of statewide cancellations and there was open disappointment throughout the different teams set to compete.
Both Faith Lutheran's seniors and seniors swimming for other schools around the country are missing out on their last chance to drop time, to qualify for Regionals, and to be with the team that has grown with them over the last four years. One season may not seem like that big of a deal to everyone, but to a group of people, a family, who have been training to make this season the best it could be, it is a big deal to see a lot of hard work and a lot of time spent together in a crowded pool not have the ending that many of us hoped for.
The Faith Lutheran swim team has become my family, and swimming for both the school and a club team has been a huge part of my life for the last ten years. I know many other swimmers and athletes in general would say something similar about their team and their sport. Waiting all year to get to the sports season that has made our time in high school that much greater, just to find out that the season may be over before it really started is heartbreaking. Knowing the hours of work put into preparing for a season that, at the least, isn't going to turn out as many of us have planned isn't something positive to think about. As hard and sad as this all is, I know that our appreciation for our sport and our team will only grow further from this season and there are only good things ahead for the Faith swim team and all other sports teams around the valley and around the world.
It is hard to accept that our season might be over, but the three weeks we did have together brought an unlikely group of people together to fight for the common goal of the team. As unconventional as this season might have been, I will not forget my junior year's swim season and all the crazy memories that were jammed into three short weeks of practices, dinners, and an intro swim meet.
I want to make it clear that the health of the city of Las Vegas and our country and world as a whole is by far the most important thing during this time, but that doesn't take away from the fact that a lot of athletes have trained their entire year for a season that was taken away from them all too quickly. With all that being said, stay safe Faith Family and the staff of Crusader Chronicle will be praying for our community during this scary and difficult time.